These are the things most clients choose to upgrade on their home.
As Calgary's largest custom home builder, a question we often get asked is "what are the most common upgrades people make to their Shane Home?" Let's answer that! Included beside each upgrade is the homestyle that offers those customization options. Due to the nature of paired home construction, our duplex customization options are more limited. For more information on what you can and can't customize in a paired home, your best bet is to reach out to one of our area managers.
Floor Plan Changes (Front Drive, Laned Homes)
This one is a bit of a cheeky answer, as changing your layout/moving walls around isn't an upgrade with Shane Homes! It's just part of our normal offering when you buy a home from us. When you first go over the floorplan with your Area Manager, you can choose to move walls, add extra bedrooms, make layout changes or generally customize within reason. One note, due to the shared wall nature of our duplex models, they do offer less options when it comes to moving walls and floor plan changes.
Ceiling Height (Front Drive, Laned Homes)
Many of our customers choose to raise the height of their ceilings. This can be done on any floor in the house, but is most commonly done on the basement or main floor. Reasons to do this include making the home feel more spacious, adding room for storage, adding height for a basement suite or basement gym, or to leave room for more customization. You can also add vaults, skylights, and trey ceilings if you so choose.
Windows (Front Drive, Laned Homes)
You can choose to use the windows we offer, or you can consider upgrading the window size, locations, or type. Many customers add triple pane windows to their home to help with insulation in the winter. Others might want a larger front window, bedroom window or to add other windows entirely. It's up to you.
Spice Kitchens (Front Drive, Laned Homes)
Adding a spice kitchen is an ever-popular upgrade today. If you're unfamiliar, a spice kitchen is an additional enclosed kitchen space generally used to cook more fragrant meals with strong smells. They usually sit off to the side of your regular kitchen, and have a closed-door entry way to seal them, plus their own ventilation system to the exterior of the home.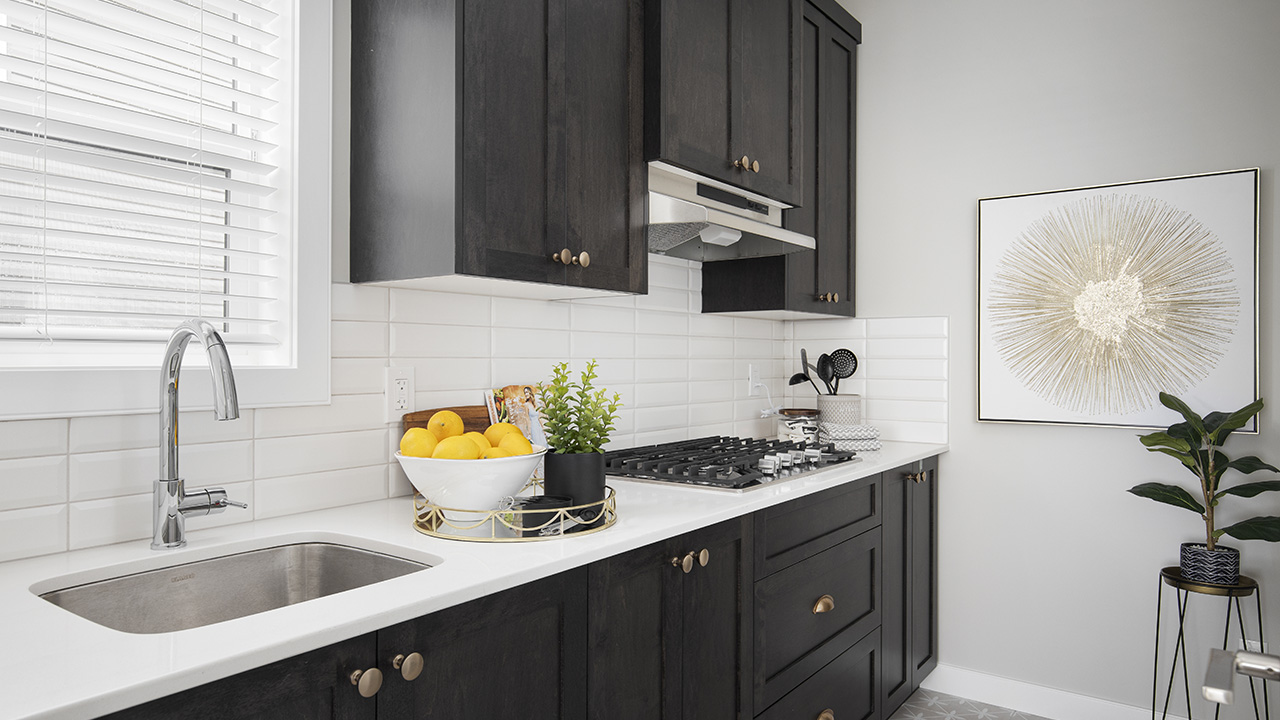 Flooring (All Homestyles)
This one is self-explanatory. You can choose to upgrade your flooring type, style and materials. A common upgrade is to use different size planks for LVP, or to add higher end tile or carpet throughout the home.
Developed Basement (All Homestyles)
Don't want to wait to develop your basement after you build? Then we're more than happy to develop it at the time of your home construction. As a bonus, it's usually more affordable to develop your basement right away, and you can customize it to perfectly suit your preferences. Common basement ideas include adding in a large common space or games room (as seen below), adding in extra bedrooms, or adding in a wet bar for entertaining guests.
Legal Suite (All Homestyles)
In a similar vein to developing your basement, we're also more than happy to develop a legal suite as a part of your new build. While not all communities are zoned for this, a majority are. Curious to learn more about legal suites and how much it costs to develop one plus what sort of savings you could see from including one in your home? Then you should take a look at our recent blog post on that very subject.
Bathroom Upgrades (All Homestyles)
Dual sinks, glass shower walls, larger showers and tile backsplashes are just some of the upgrades you can choose for your bathroom. In particular, we see the owner's suite bathroom being a favorite of our customers to upgrade. Afterall, who doesn't want the bathroom of their dreams?
Super Kitchen (Front Drive, Laned Homes)
We promise this doesn't mean your kitchen has been bitten by a radioactive spider! A super kitchen is our term for a fully decked out kitchen. Super kitchens add details like a larger island, larger kitchen floor space, additional waterlines (like a pot filler), different cooktops, a chimney hood fan, and other material and appliance upgrades.
Railings (All Homestyles)
Don't want the base railing? You can upgrade it. Change your spindle type, or the material of your railing. Many customers choose to go with a glass railing for example. As one of the main features of your home, a higher end railing can really set your house apart and up the style and feel of the home.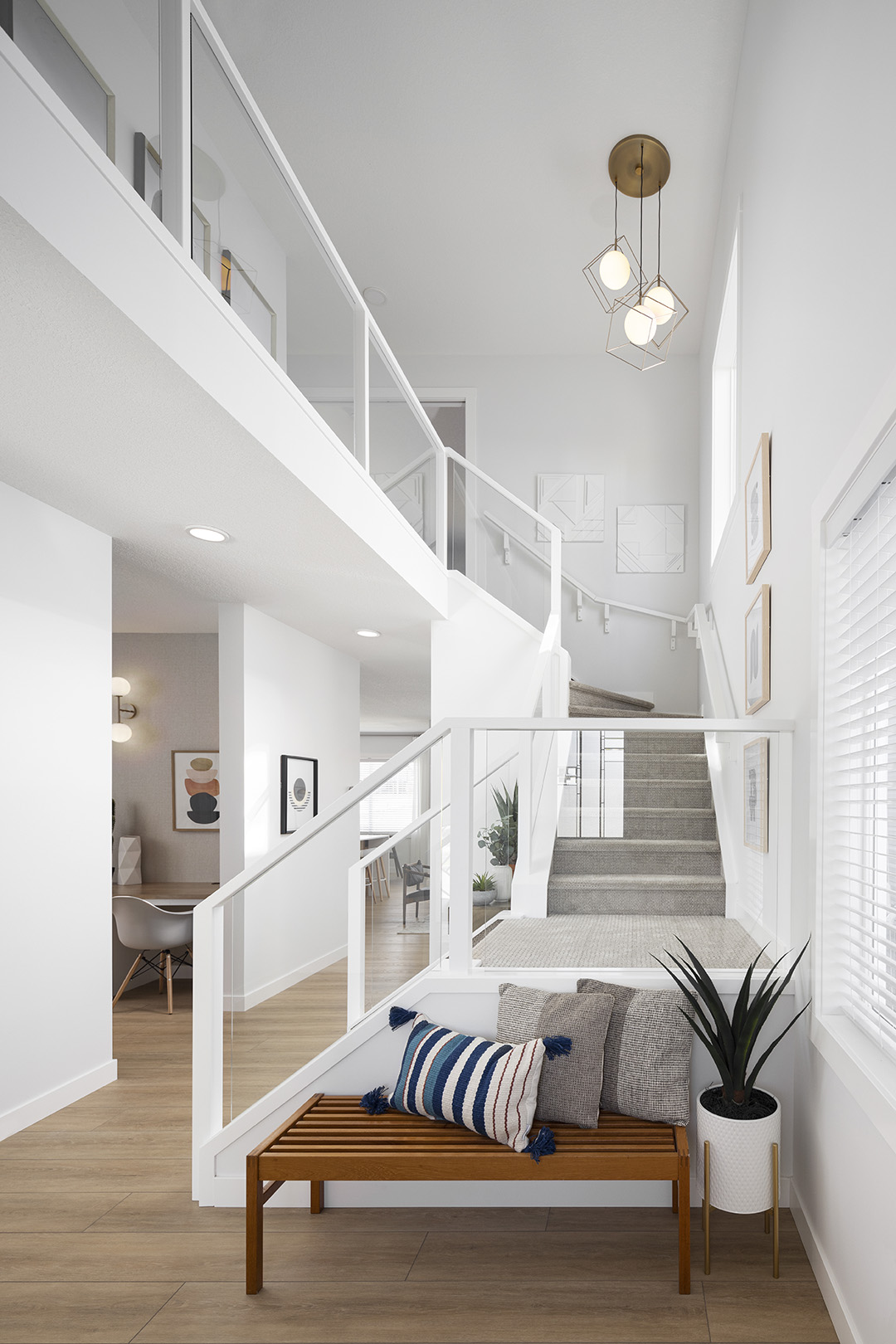 While these upgrades are the most common, here at Shane Homes we're more than happy to do our best to upgrade whatever you wish. As a custom home builder, we offer so many upgrades it's sometimes hard to keep track of them all! At the end of the day, our goal is to build the perfect home for YOU, so don't hesitate to ask for anything you have your heart set on.
A more complete upgrade list is provided below to flesh out your options even more!