If you've been in the market for a home recently, you've probably noticed that almost every new home has the option to include a developed legal suite as part of your build. Why is that? What are the reasons one might consider adding a legal suite to their home? And most importantly, what kind of savings can you expect to see if you do add one?
What is a Legal Suite
We're sure you already have a pretty good idea of what a legal suite is, but if you don't, here's a super quick crash course.
A legal suite is a second fully private living unit in your home. Generally, they're located in a basement, but they don't have to be. Suites feature their own kitchen, living area, and bedroom, plus their own independent heating systems. They also require their own private access and must satisfy a list of requirements to be approved for living. Most home suites are developed as 1-2 bedrooms, depending on the size of your home footprint.
Legal suites can be added to a home at any time, but they're much easier (and cheaper!) to add while your home is being built. We'll explain why a bit later in this article.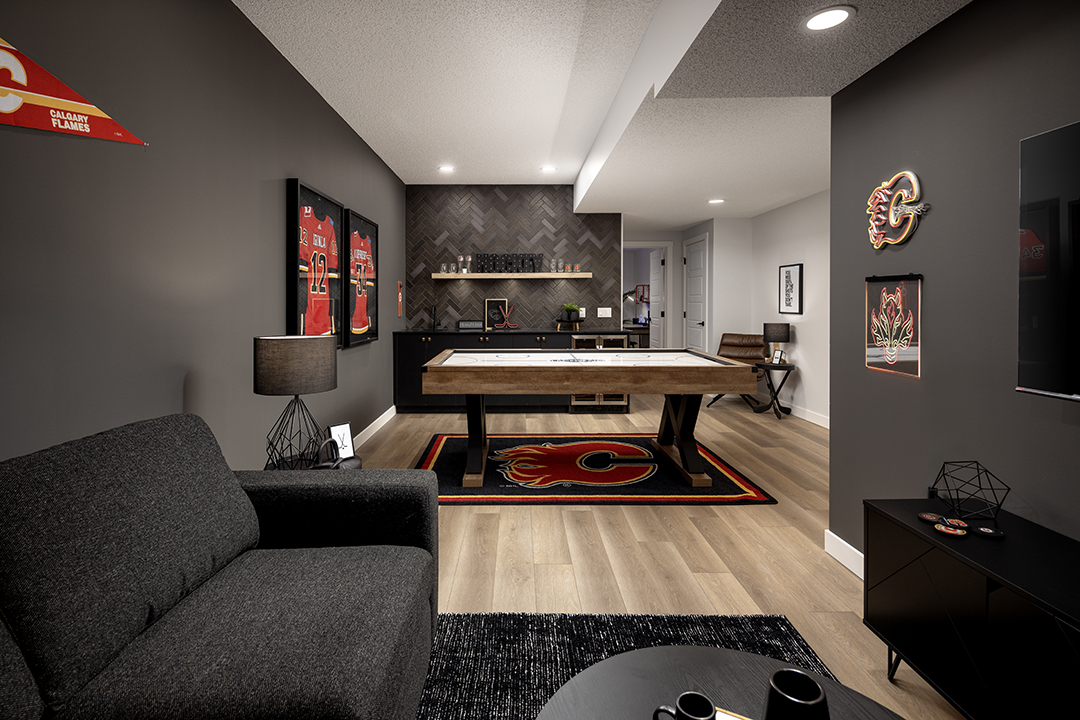 How does a legal suite save me money?
Speaking of cheaper, how does having a legal suite in your home provide you with financial relief? There are two distinct ways.
One way is by giving you a monthly source of income that you can use to help cover the cost of your mortgage. Thanks to the revenue from renters in your home, you can lower your monthly payments quite substantially by allocating the income you receive from a rental to your mortgage payments.
The other, is by allowing you to claim the income you receive from the suite as personal income in the eyes of the CRA. What this means is you effectively raise your income amount, making it easier to qualify for mortgages in the future. For example, imagine you rent the suite for $1500 a month. At the end of the year, you get to add that $18,000 to your annual income, boosting your income number substantially. This is important for negotiating your mortgage, as it'll give you more leverage. One thing to note, you'll still have to pay tax on the income from the rental suite, so it's not entirely cash in pocket!
What is the process for developing a legal suite?
With Shane Homes, adding a legal suite to your home is usually as easy as you saying the word. Most of our home models come legal suite ready, and many of our communities are zoned to allow their inclusion. Like most things in life, there are some exceptions, so be sure to ask one of our sales managers if the neighbourhood you're looking at is legal suite zoned.
Assuming that's the case, the only other thing you'll need to do is pay the cost of development of the suite, and work with us on the design! A bonus is that when you choose to develop the suite as a part of your home construction, you can spread out the suite development cost over the duration of your mortgage, vs having to pay it all in one lump sum.
Can I add in a Legal Suite After the Build
The short answer is yes…but.
Adding a legal suite to your home once it's built is do-able, but it does present more difficulty. One of the main issues is you'll need to pay the construction costs out of pocket, not to mention deal with construction in your home. The other issues that might arise are with the design of your home itself. If your basement ceiling isn't high enough, if you don't have a side entrance, a separate heating unit or more, then you'll be faced with the costs of adding those things into your home. Plus, you'll have to deal with getting approval and permits from the city, a process that can become quite a headache.
If you're very on the fence about a legal suite, a solution would be to develop your home "legal suite ready". This would ensure that if you decide to add in a suite after the fact, the structure and design of your home is ready to support that. Due to this, a builder (hopefully us) will include all the rough ins and design keys necessary for a legal suite. If you decide to add one in the future then, it'll mostly be plug and play, saving you time and money.
What Sort of Savings Will I See?
Speaking of savings, you're probably most interested in what sort of savings you can expect to see from a suite. While costs will fluctuate over time and due to interest rates, we've provided a chart below to help visualize the sort of savings you can expect to see on your mortgage if you include the cost of development, and revenues from a legal suite.
Of note is the almost $1000 monthly savings on your mortgage payments, even including the cost of developing the suite!
Sold on building your house with a legal suite? Congratulations! If you have any questions after reading this article, the best person to talk to would be one of our many area managers. They'll be the best source of answers to all your inquiries! You can use the "where we build" tab of our website to pick what neighbourhood you'd like to build in, and it'll give you a guide on which of our sales managers you can talk to.