My name is Brenda and I am in charge of Shane Homes' Social Media plus I am one of the Directors on the Peanut Butter Classic executive and organizing committee, along with Rhonda Halyn, Shane Homes' Vice President of Finance. In my volunteer role on the Peanut Butter Classic I take care of their Social Media and Marketing.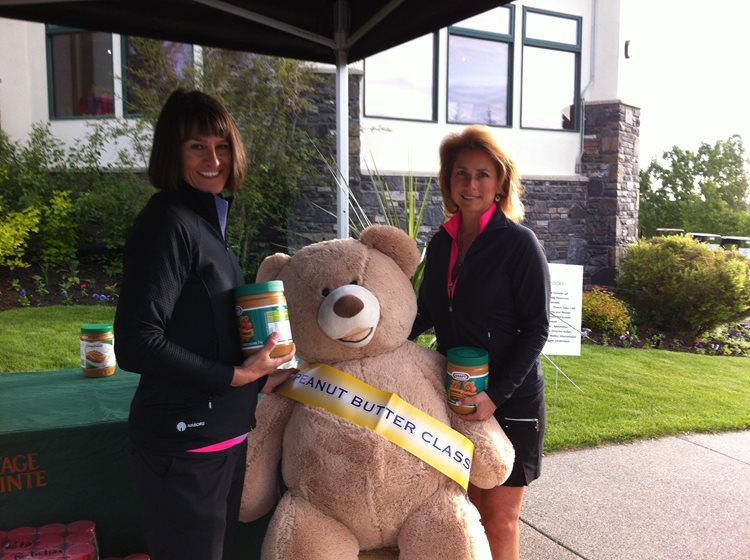 Brenda (left) and Rhonda (right) at our 2010 tournament
Shane Homes is a major sponsor of the Peanut Butter Classic charity golf tournament. The PBC is a ladies only charity golf tournament that was created by founder, Heather Forsyth in 2003. Who knew back then that the idea she conceived of while having coffee with the girls would flourish and evolve into a major event involving over 250 people and raising over $1,527,000 in 13 years – not to mention generating approximately 7707 jars of peanut butter as each golfer is required to bring a jar of peanut butter as part of the entry fee!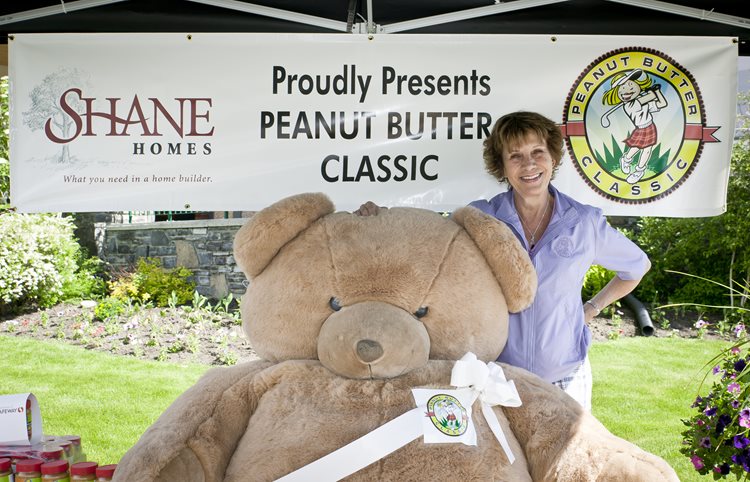 Photo: Heather Forsyth, Founder of the Peanut Butter Classic
Shane Homes first started sponsoring this event in 2010 and this year marks the 7th year as presenting sponsor. We have committed to being major sponsor for two additional years.
Rhonda and I joined the committee in 2010 and we are both proud to be involved with this successful event. Our 13th annual tournament took place on Monday, June 13th and we are excited to say that we raised over $150,000! This year, in particular, we are even more appreciative and grateful for our sponsors, golfers, prize donors and everyone contributing to the success of our tournament, especially with the local economy being as it is.
The tournament is organized entirely by volunteers and the chosen charity receives 98% of the funds raised.  Since Shane Homes has become major sponsor for the PBC our recipient charity has been Alcove Addiction Recovery for Women (previously known as Youville Recovery Residence for Women).
The committee members are very proud of the PBC and here are just 10 of the reasons why we are:
1. Over $1.5 million raised in 13 years which was presented to local charities helping women and children in need!
2. Over 7500 jars of peanut butter presented to the Calgary Interfaith Food Bank since our inception! We were very fortunate to have several large donations of peanut butter over the years, including 3000 jars from Skippy in 2014!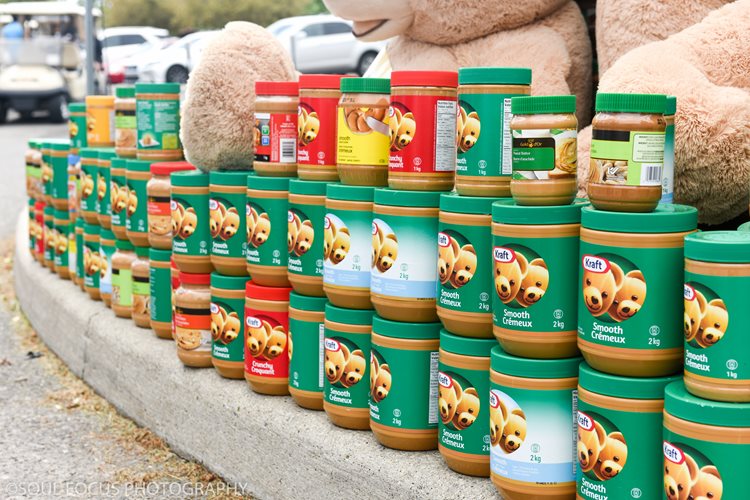 3. 97% Sold out! In a tough economy we thought we would need to cut back to an 18 hole tournament with 144 golfers, but we sold out, so we increased to a 27 hole tournament with 192 golfers.
4. Complimentary Golf Clinic: Who else has a complimentary golf clinic before their tournament with the talented and dedicated Lisa "Longball" Vlooswyk, 7 Time Canadian Long Drive Champion, providing tips and encouragement?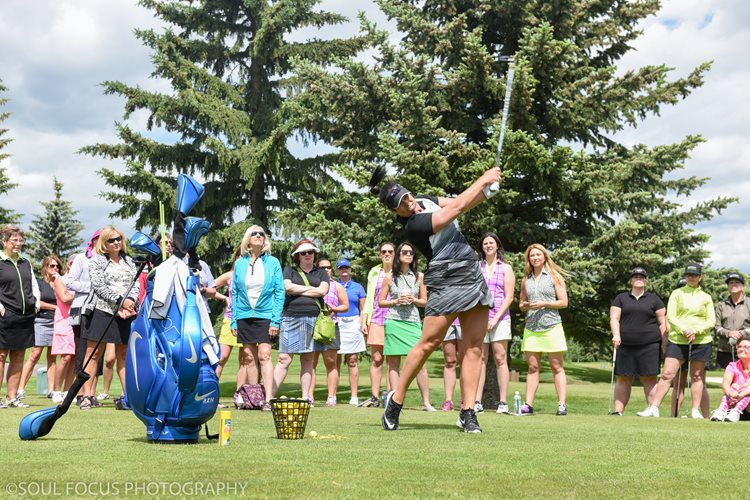 5. Customized Chocolate Bar: Who else has a customized chocolate bar for a golf tournament? We do compliments of Cococo Chocolatiers! Each lady receives one at the event! Sweet hey?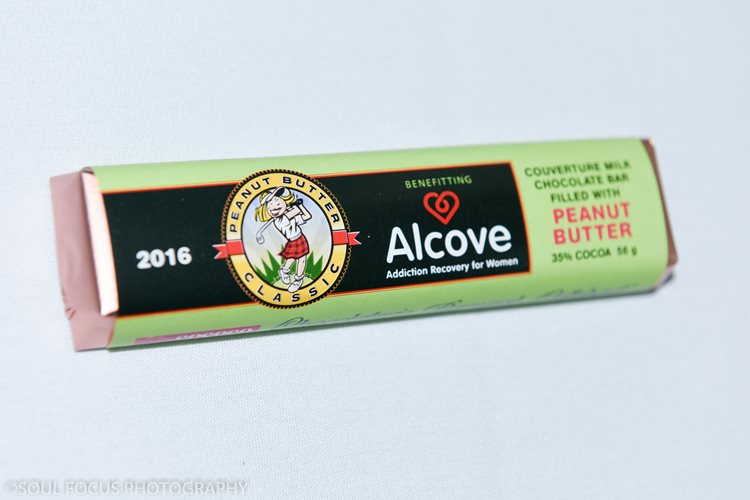 6. Calgary Firefighters: Who else has some of Calgary's finest men, members of the Calgary Firefighters participate on 6 holes selling drives to our ladies! These gentlemen came on their day off to help us raise money. Very very generous! The Calgary Firefighters have been involved with the tournament since the tournament's inception. They help liven things up on tournament day and happily pose with golfers as well as generating money for our chosen charity by selling drives.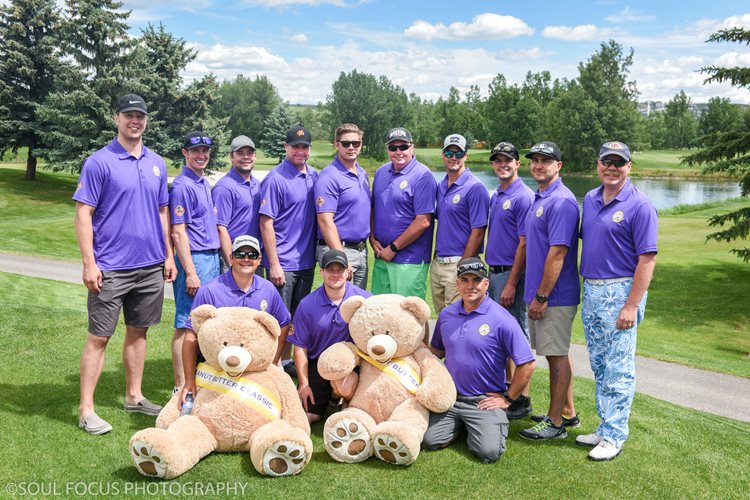 7. Private Photographer: Who else has a private photographer covering the event? Thank you so much to Soul Focus Photography! The photos are amazing and will help us in our marketing and promotional efforts for next year!
8. 2 media sponsors – The Calgary Sun and the The Calgary Herald who champion our tournament helping us to acquire and thank sponsors and golfers.
9. 17 Dedicated Volunteers on our Executive & Organizing Committee: Heather Forsyth, Ann Christopoulos, Ann Logue, Brenda Kasianiuk, Cathy Spackman, Cheryll Nandee, Cindy Drummond, Janey Chupik, Janice Tiberio, Jeaninne Zanewich, Jennifer Wainwright, Kim Urban, Keoma Duce, Rhonda Halyn, Traci Laliberte, Trudi-Ann Webster and Wendy Keegan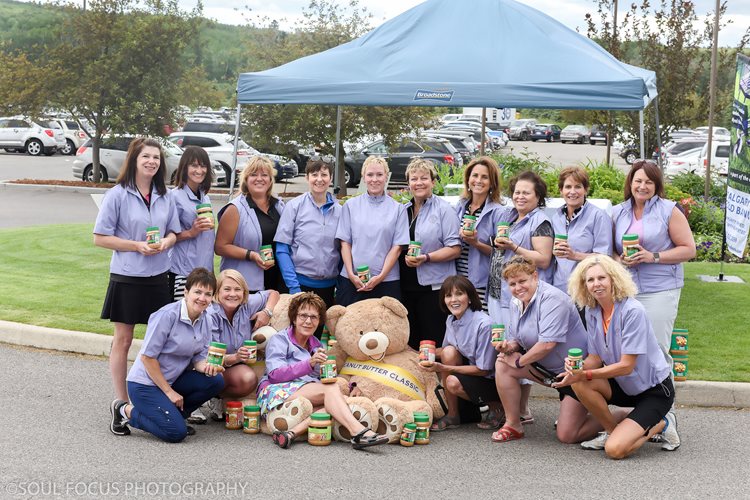 10. Over approx. 150 companies involved! That's 40 sponsors, 26 prize donors, 58 silent auction donors, and over 30 special thanks!
Next steps? We will be doing a cheque presentation to Alcove in the upcoming months, but for now we are planning to take the summer off. 🙂
To view a photo gallery from the tournament please visit our Facebook page.
Please email [email protected] for more information on becoming a sponsor, to donate a prize, or other inquiries.
Social Media:
Follow PBC on Twitter: @PBLadiesGolf
Like PBC on Facebook: http://www.facebook.com/PeanutButterClassic/