Are you buying a new home or thinking of renovating the kitchen in your existing home?
We asked Natasha, one of our talented Interior Designers, to share some tips and ideas when it comes to kitchen cabinetry. Our Shane Homes' Interior Design team are responsible for decorating all of the Shane showhomes plus they help our Shane Homes' customers with their interior and exterior design selections, which is included with their Shane home purchase, so they are on top of what is new and noteworthy on most things design related.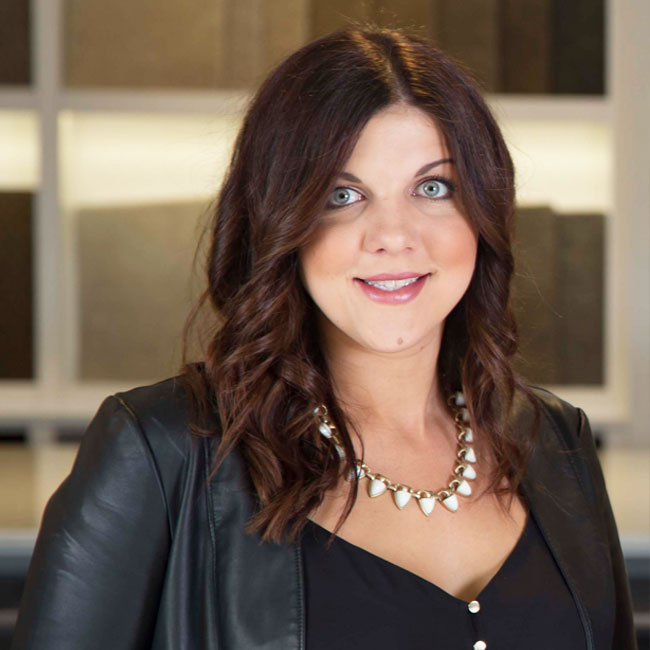 TIP: Separate the placement of the built-in wall oven and microwave.
This allows you to play with cabinetry depths and separates the working areas, creating more space when there are multiple cooks in the kitchen. The height placement also means less bending and reaching, ideal for those with mobility issues.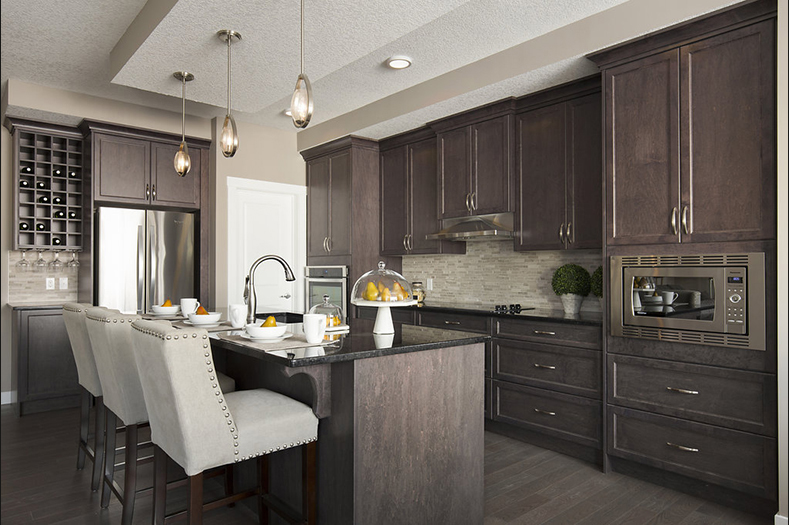 Photo: The Manhattan Showhome in Cornerstone
TIP: Extend cabinetry to the ceiling and create a focal point with an upper shelf with clear glass and lighting to highlight your favourite collectibles or your grandmother's fine china. This is a perfect way to create additional storage and an opportunity to highlight your treasures while having them safely out of children's reach.
Alternatively, add glass doors to a section of cabinetry to show case decorative glass wear while still having it accessible and within reach.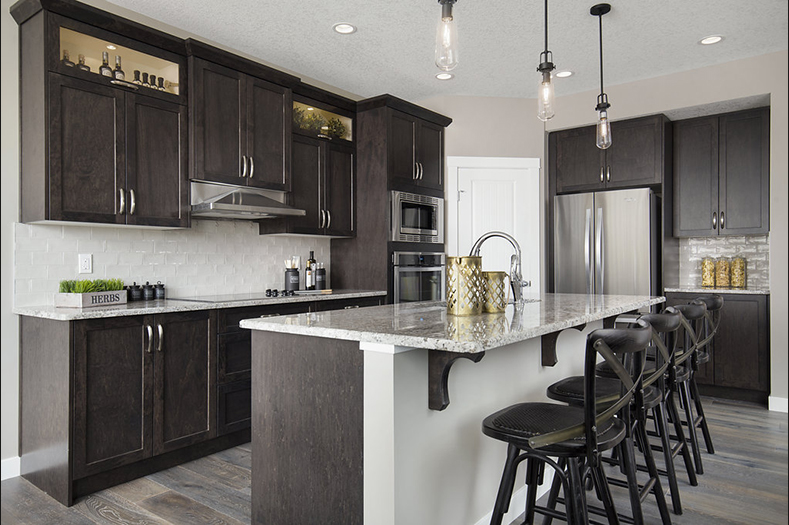 Photo: The Orion Showhome in Midtown in Airdrie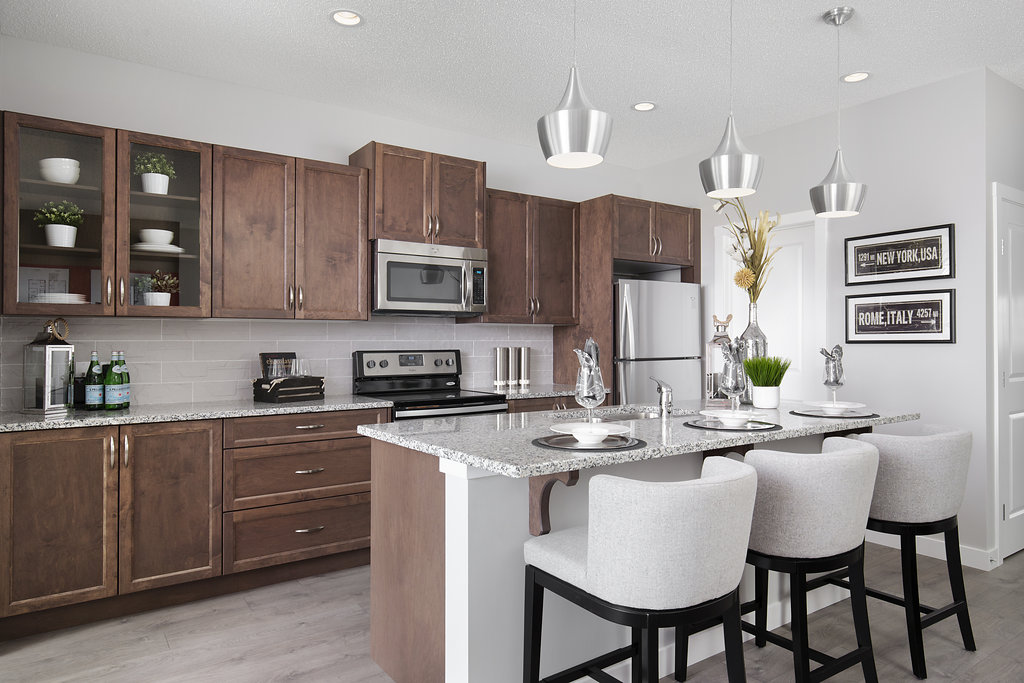 Photo: The Wysteria Showhome in Cornerstone
TIP: Skip the island and opt for a peninsula.
Peninsulas create a nice working triangle flow. "The kitchen work triangle is a concept used to determine efficient kitchen layouts. The primary tasks in a home kitchen are carried out between the cook top, the sink and the refrigerator. These three points and the imaginary lines between them, make up what kitchen experts call the work triangle. The idea is that when these three elements are in close (but not too close) proximity to one other, the kitchen will be easy and efficient to use, cutting down on wasted steps." (Excerpt from Wikipedia)
An added bonus to this peninsula is the dining ledge, perfect for kids to sit at for a quick snack, or to seat guests while prepping food in the kitchen. The peninsula also creates plenty of counterspace for food prep and when serving food buffet style.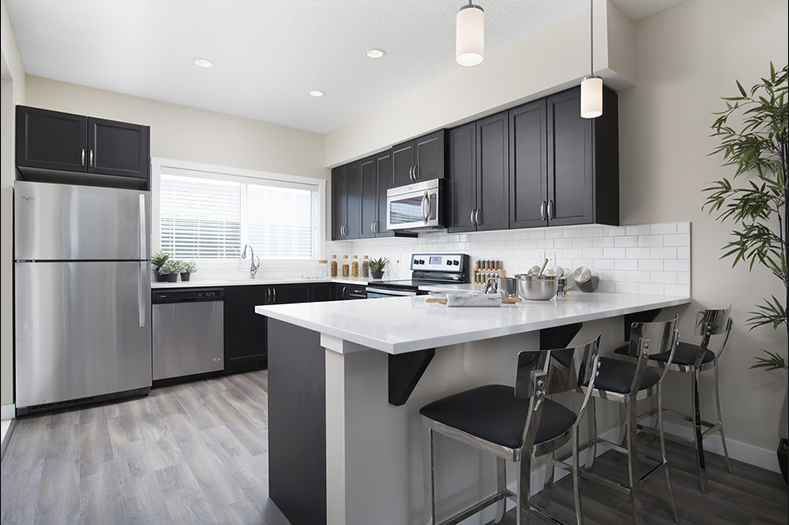 Photo: The Chelsea Showhome in Midtown in Airdrie
TIP: Add a wine rack to the end of your kitchen island.
To create a focal point and make the wine rack pop, use a different stain colour than your cabinetry. Alternatively, add a wine rack to the end of a section of upper cabinets and add a rack to hang glasses or find other ways to attractively incorporate into your kitchen design.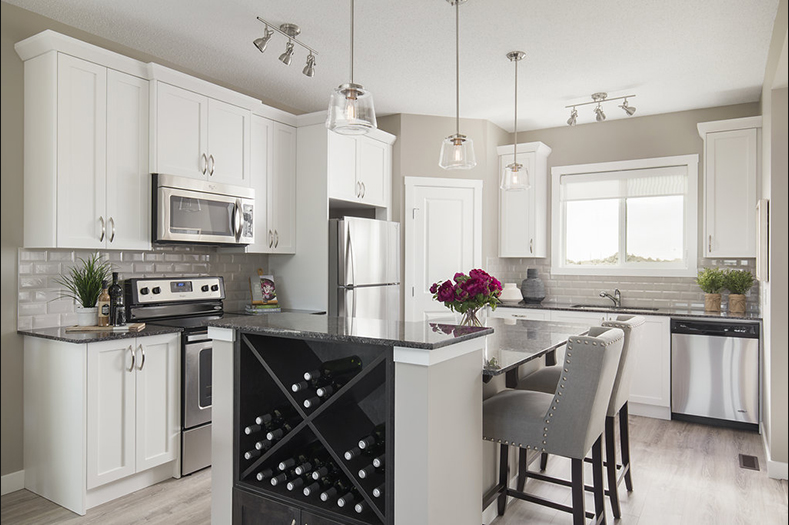 Photo: The Verve Showhome in Hillcrest in Airdrie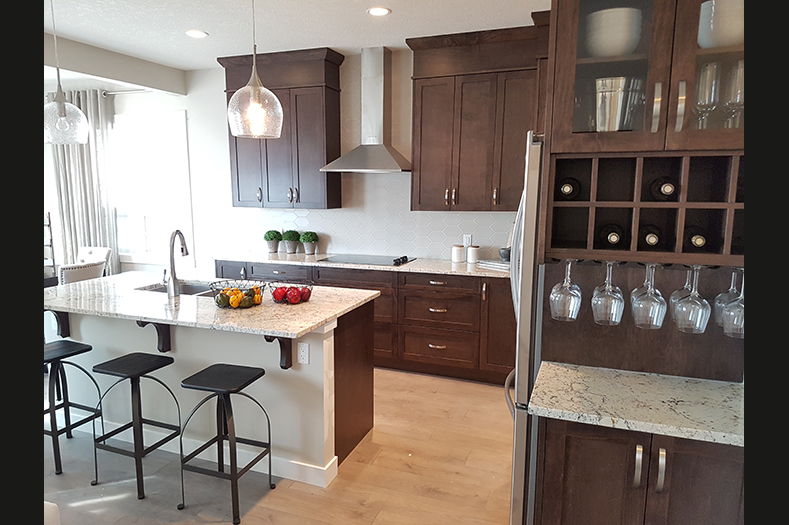 Photo: The Halston Showhome in Cornerstone