Heather Forsyth, Founder of the Peanut Butter Classic

Shane Homes is a major sponsor of the Peanut Butter Classic charity golf tournament. They first started sponsoring this event in 2010 and since then have committed to being a major sponsor until 2015.
The Peanut Butter Classic is a ladies only charity golf tournament that was created by founder, Heather Forsyth, MLA for Calgary – Fish Creek in 2003. Who knew back then that 10 years later, the idea she conceived of while having coffee with the girls would flourish and evolve into a major event involving over 250 people and raising over $930,000 in 10 years – not to mention generating thousands of jars of peanut butter! (Each golfer is required to bring a jar of peanut butter!)
My name is Brenda and I am in charge of Shane Homes' Social Media plus I am one of the Directors on the Peanut Butter Classic volunteer committee, along with Rhonda Halyn, our Vice President of Finance. Rhonda and I became involved with the Peanut Butter Classic through Shane Homes major sponsorship and we are both proud to be involved with this event. Our 10th anniversary tournament took place on Monday, June 10th – 1oth anniversary tournament on the 10th of June!
The tournament is organized entirely by volunteers and the chosen charity receives 98% of the funds raised. As a committee we keep our expenses down to a bare minimum!
Since Shane Homes has become major sponsor for the PBC our recipient charity has been Youville Recovery Residence for Women.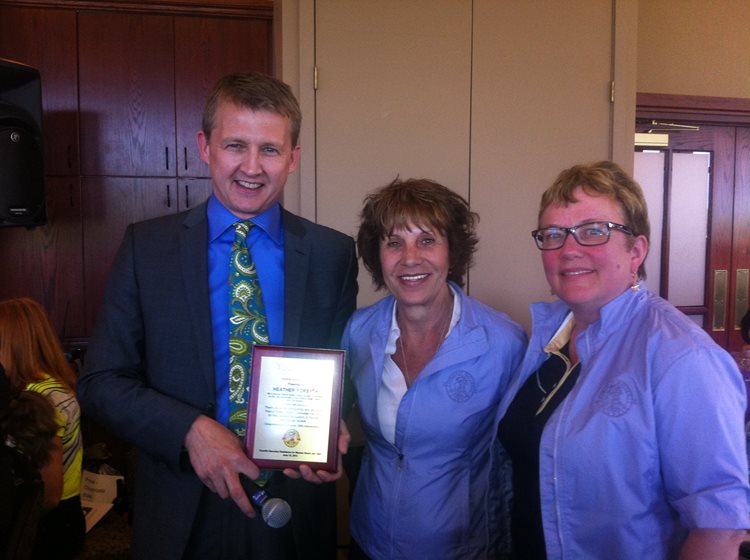 From Left: Brian Beck, Board Chair, Youville Recovery Residence for Women; Heather Forsyth, MLA – Calgary – Fish Creek; Cathy Spackman, Director on PBC Committee

As a committee member, I thought I'd share a behind the scenes look at this tournament. The volunteers start planning the tournament soon after the June tournament ends as the golf course needs to be booked almost a year in advance. Once the final figure is determined that will go to the recipient charity, a cheque presentation takes place at one of the residences operated by the Youville Recovery Residence in September or October. The committee has approximately 20 members and meets monthly starting in December, then weekly starting in May, the month prior to the tournament. We have sub groups within our committee responsible for sponsorships, marketing/communication, registration, on course activities, golf course, prizes, and silent auction.
The volunteers on our committee are from a variety of companies and industries. The ladies on the committee are as diverse as the industries … we have one MLA, one alderperson, a lawyer, a bank manager, a stay at home Mom, and more. Companies include law firms, plumbing company, Calgary Board of Education, pharmaceutical companies, and more.
This year the PBC broke a lot of our previously set records:
Raised most money ever with over $200,000; over $930,000 raised in 10 years!
Generated 636 jars of peanut butter; over 2636 jars presented to Calgary Interfaith Food Bank since our inception!Calgary Interfaith Food Bank accepting the peanut butter that each of our golfers was required to bring – otherwise a $20 fee!
Over 228 golfers on a 27 hole course rather than our normal 144 golfers on 18 hole course!
Heather Forsyth was interviewed prior to the tournament by a local radio station – Kool 101.5
3 media sponsors – The Calgary Sun, The Calgary Herald, New Home Living
20 members on our Volunteer Committee: Heather Forsyth, Diane Colley-Urquhart (Alderman, Ward 13), Ann Logue, Anne Christopoulos, Franca Best, Traci Laliberte, Wendy Keegan, Janice Tiberio, Rhonda Halyn, Brenda Kasianiuk, Fatima Remtulla, Donna Carson, Cathy Spackman, Cheryll Nandee, Deb Solberg, Janey Chupik, Jeaninne Zanewich, Susan Mauro, Jennifer Wainwright and Linda Carlson.

2013 Peanut Butter Classic Executive & Organizing Committee

10th year anniversary
First ever online auction
Over approx. 200 companies involved! That's 44 sponsors, 76 prize donors, 52 silent auction donors, and over 31 special thanks!
Most men on course ever! This year we had 12 Calgary Firefighters participate on 6 holes selling drives to our ladies! Plus Ken McCurdy Photography who photographed our event!

One of the Calgary Firefighters, 10 year supporters of PBC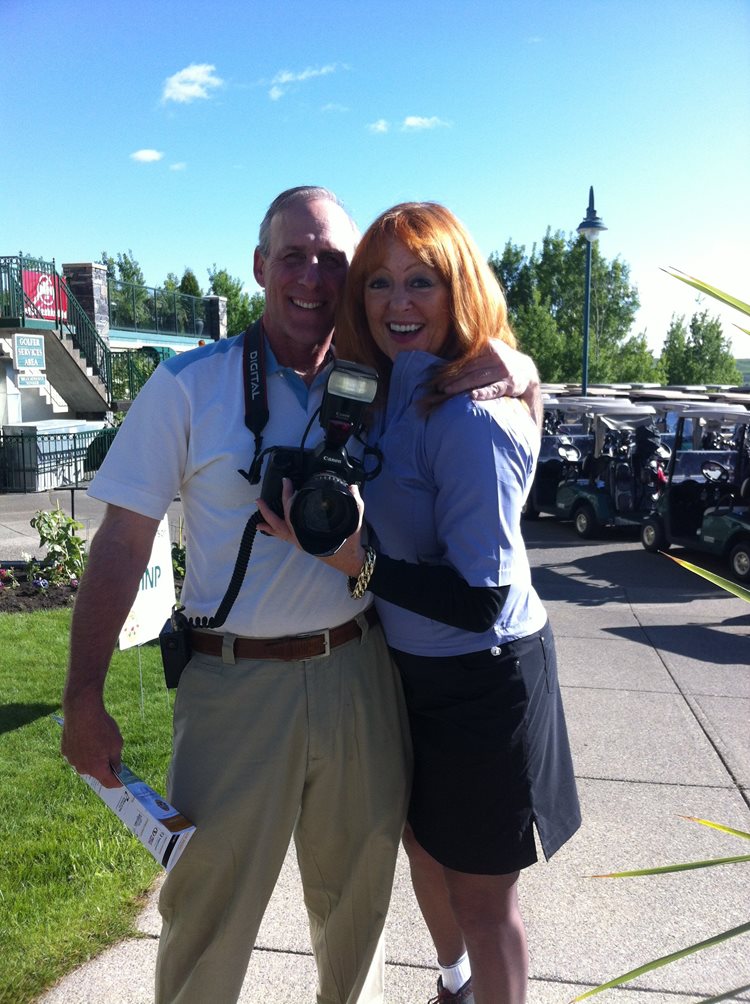 Ken of Ken McCurdy Photography and Alderwoman Diane Colley-Urquhart
The Calgary Firefighters have been involved with the tournament since the tournament's inception. They help liven things up on tournament day and happily pose with golfers as well as generating money for our chosen charity by selling drives.
As a committee we are already making plans to meet at the end of the month to debrief, then in September we will have our cheque presentation with Youville.
For more info, please read our Press Release issued just before the tournament.
To view a photo gallery from the tournament please visit:
https://www.facebook.com/PeanutButterClassic
For more information on Shane Homes' Community Involvement please visit: http://www.shanehomes.com/shane/About/CommunityInvolvement/3
PS On a side note, after Rhonda first toured one of the Youville residences that was in need of repair, she conceived the idea of possibly helping them with maintenance and repair during our less busy times as a company and we are proud to say that we have committed to helping them as much as possible to keep their expenses down. What happens if we have a spare fridge or dishwasher? It goes to Youville …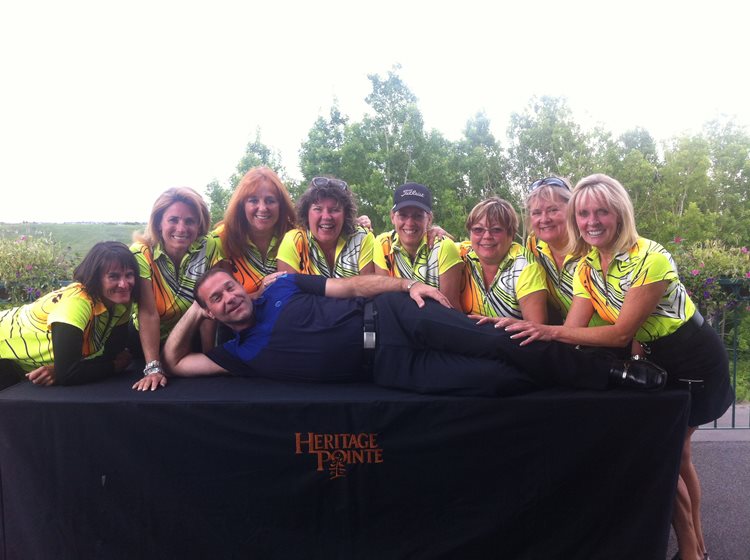 Shane Wenzel, President of Shane Homes, Major sponsor of the PBC with the Shane Homes' golf teams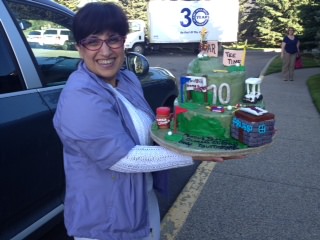 Fatima, one of our committee members made this gorgeous 10th Anniversary cake!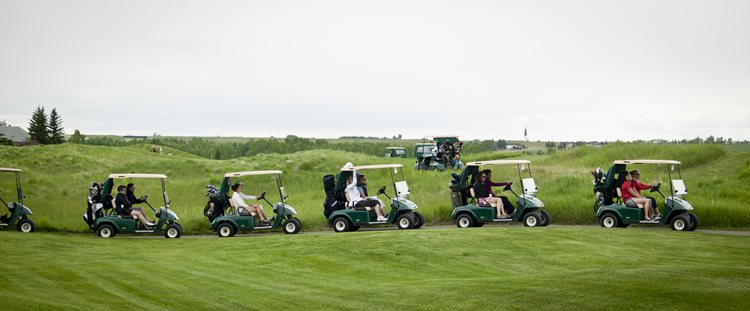 And away we go!!!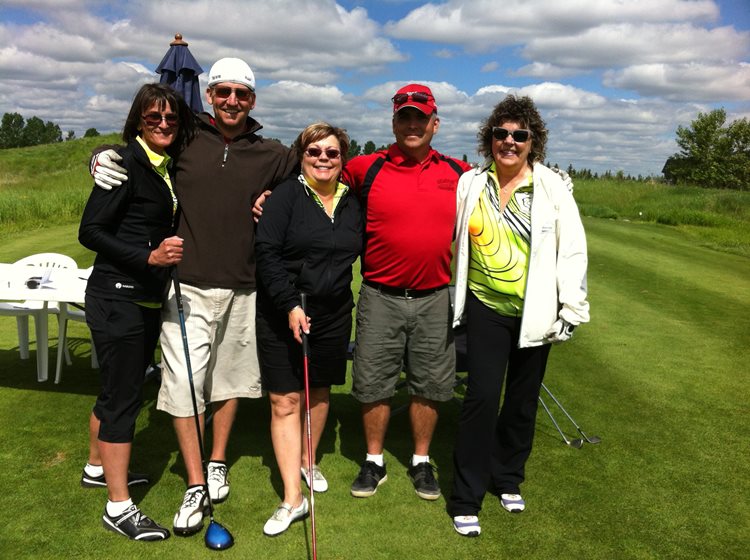 Happy golfers enjoying a Calgary Firefighter hole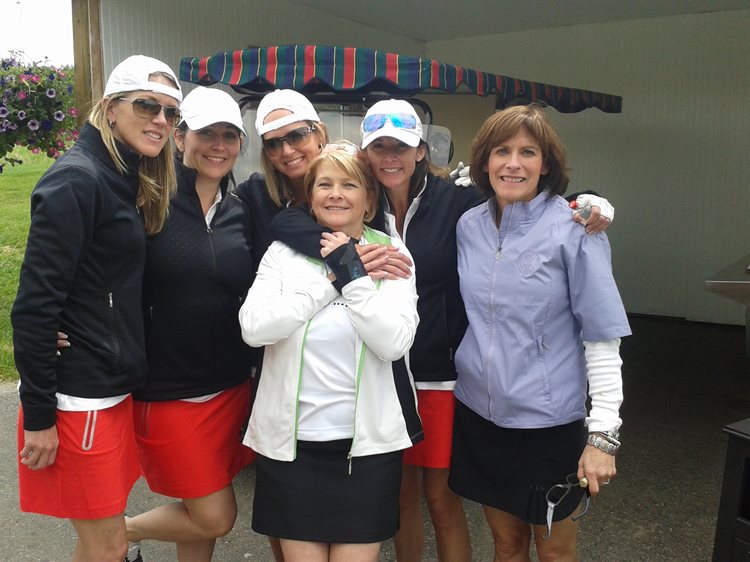 What a great day to golf!