Heather Forsyth, Founder of the Peanut Butter Classic

Shane Homes is a major sponsor of the Peanut Butter Classic (PBC) charity golf tournament. We first started sponsoring this event in 2010 and since then have committed to being a major sponsor until 2015.
The Peanut Butter Classic is a ladies only charity golf tournament that was created by founder, Heather Forsyth in 2003. Who knew back then that 12 years later, the idea she conceived of while having coffee with the girls would flourish and evolve into a major event involving over 216 golfers and raising over $1.3 million dollars – not to mention generating thousands of jars of peanut butter! (Each golfer is required to bring a jar of peanut butter!)
My name is Brenda Kasianiuk and I am in charge of Shane Homes' Social Media plus I am one of the Directors on the Peanut Butter Classic volunteer committee, along with Rhonda Halyn, our Vice President of Finance. Rhonda and I became involved with the PBC through Shane Homes major sponsorship and we are both proud to be involved with this event. Rhonda and I have been on the Committee for the past 6 years and are active and dedicated contributors, Rhonda through securing sponsors, primarily through our trades and suppliers and myself by crafting social media for the PBC all year and taking care of the Marketing and Communications with my fellow committee member, Franca Best, who I have to say, is "The Best". Our Shane Homes marketing team helps out by designing creative and professional sponsorship and golfer packages, programs, on-site marketing materials and more. Rhonda and I both golf in the tournament as well.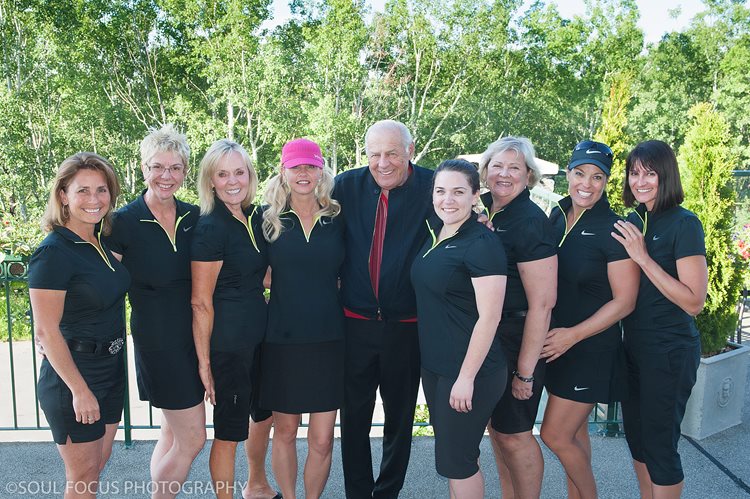 Rhonda and I with Cal Wenzel and our foursomes From Left: Rhonda, Lynn (Shane Homes), Carol Oxtoby, Brenda W. (Shane Homes), Cal Wenzel, Taylor (Shane Homes), Donna Moore, Lisa "Longball" Vlooswyk, Brenda

The tournament is organized entirely by volunteers and the chosen charity receives 98% of the funds raised. As a committee we keep our expenses down to a bare minimum to maximize the amount that goes to the charity.
Since Shane Homes has become major sponsor for the PBC our recipient charity has been Youville Recovery Residence for Women a long-term recovery residence for women that operates in the Calgary area. Their mandate is to offer holistic recovery programming to a particularly vulnerable and challenged population of women, in some cases with their children, in a safe and loving environment. Calgarians who wish to donate directly to Youville Residence Society of Alberta can do so by calling 403-242-0244 or visiting http://www.youville.net.
We are happy to celebrate so many successes this year that we would like to share with you.
We raised approximately $200,000 at our 2015 tournament. This brings our 12 year total to over $1,300,000!

We generated 528 jars of peanut butter from our golfers and from a generous donation by Calgary Coop

Since our inception we have presented over 7,515 jars of peanut butter to the Calgary Food Bank, in large part thanks to a donation of 3,876 jars of peanut butter from Skippy in 2014!

In 2010 we increased our tournament from 144 golfers on an 18 hole course to 216 golfers on a 27 hole course. We have SOLD OUT our tournament the last 2 years with 216 golfers!!

Lisa Longball Vlooswyk, 7 time Canadian long drive champion and number 3 in the WORLD conducted a complimentary golf clinic in 2014 and 2015 and hosted our event this year and the ladies thoroughly enjoyed it!
Switzer Investments – Sam Switzer donated $25,000 and announced an additional $25,000 donation in early June to help us reach our $200,000 goal!!
One of the Calgary Firefighters got a HOLE-IN-ONE when he was fund-raising by driving for our ladies on a par 3 to raise funds for Youville!The Calgary Firefighter who scored a hole-in-one with the team that was on the hole at the time.

Corus Radio donated spots to air on Q107 and AM770 to promote our tournament prior to the event

The Weather Network did a video on our tournament pre-event

3 media sponsors – The Calgary Sun, The Calgary Herald, New Home Living/Condo Living. Watch for two, two page editorials on the tournament in New Home Living and Condo Living magazines this summer!

14 members on The Peanut Butter Classic board: Heather Forsyth, Ann Logue, Ann Christopoulos, Franca Best, Traci Laliberte, Wendy Keegan, Rhonda Halyn, Brenda Kasianiuk, Cathy Spackman, Jennifer Wainwright, Janey Chupik, Jeaninne Zanewich, Keoma Duce, and Trudi-Ann Webster.

Over approx. 150 companies involved! That's 47 sponsors, 57 prize donors, 20 silent auction donors, and over 33 special thanks!

Thanks to Soul Focus Photography who photographed our event to provide photographic memories to our attendees and use in our marketing efforts.

Thanks to Cococo Chocolatiers, owners of Chocolaterie Bernard Callebaut®, who provided a complimentary peanut butter chocolate bar fore each of our ladies as a sweet treat! Delicious!
Thanks to Spolumbos for providing yet again another a delicious lunch! Spolumbos has been feeding our hungry ladies since we started our tournament 12 years ago!! As our tournament has grown and the number of golfers and volunteers has grown, Spolumbos has happily grown their sponsorship with us – thank you!
The Calgary Firefighters were heating things up at the tournament, participating on 4 holes selling drives to our ladies! The Calgary Firefighters have been involved with the tournament since the tournament's inception. They help liven things up on tournament day and happily pose with golfers for photos as well as generating money for our chosen charity by selling drives.
Cal Wenzel from Shane Homes announced that Shane Homes will be presenting sponsor for an additional 3 years!
To view photo galleries from the tournament please visit the Peanut Butter Classic on Facebook:
https://www.facebook.com/media/set/?set=a.10152832115977821.1073741834.78802447820&type=3
For more information on Shane Homes' Community Involvement please visit our Community Involvement page.
As a committee member, I will share a behind the scenes look at this tournament, to give you an idea of the time and resources that go into planning and executing this charity tournament. The volunteers start planning the tournament soon after the June tournament ends as the golf course needs to be booked almost a year in advance. The tournament is in June, so after booking the course, we start planning for the following year's tournament in late September, we review feedback from our previous tournament and look for ways to further improve the upcoming tournament so our golfers leave with the joyous memorable experience they have come to expect over the years. We meet monthly until approximately two months prior to the tournament, then we meet bi-weekly and then weekly for the month leading up to the tournament. The committee has approximately 15 members. We have sub groups within our committee responsible for sponsorships, marketing/communication, registration, on course activities, golf course, prizes, and silent auction. As a committee we will discuss ideas and reach decisions, and then our sub-committees execute.
Now that our 12th annual tournament has successfully taken place, once the final figure is determined that will go to the recipient charity, a cheque presentation takes place at one of the residences operated by the Youville Recovery Residence in September or October. We will then issue a press release and photo to celebrate this achievement.
I take care of social media for the PBC; all year I look at acquiring interesting content for Facebook and Twitter to keep our name out there. We enjoy sharing content from our sponsors, inspirational quotes, peanut butter related recipes and content that we think our ladies will find entertaining, educational or simply interesting.
The volunteers on our committee are from a variety of companies and industries. The ladies are as diverse as the industries … we have accountants, a former MLA and leader of the Wild Rose party, a bank manager, marketing and social media specialist, a stay at home Mom, and more. Companies these ladies work for include the Calgary Board of Education, major bank, local large volume home builder and more.
Planning and executing a tournament such as the PBC is a challenge as we have a lot of extras:
– registration gift
– goodie bag for each golfer with free samples from George's Cream and more
– prizes for each team plus skill/hole prizes on each hole
– silent auction
Lastly, on a side note, after Rhonda first toured one of the Youville residences that was in need of repair, she conceived the idea of helping them with maintenance and repair during our less busy times as a company and we are proud to say that we have committed to helping them as much as possible to keep their expenses down. What happens if we have a spare fridge or dishwasher? It goes to Youville …
Thanks for reading our blog! If you own a business, please keep the Peanut Butter Classic in mind as a sponsorship opportunity for 2016! Also, they welcome any prizes that you would be able to donate! To contact the PBC email: [email protected]