It was just another day at work for many of us. The building greeted us as we pulled in, the red and white glow of Christmas lights getting us into the spirit of Christmas, while thoughts of what we must get done in our busy work day also occupied our minds.
For the past three years, Shane Homes has donated $5,000 per year to purchase gift cards and donate them over the Holiday Season to help spread cheer and to help those who may need it. Our staff also donate to this fund as well.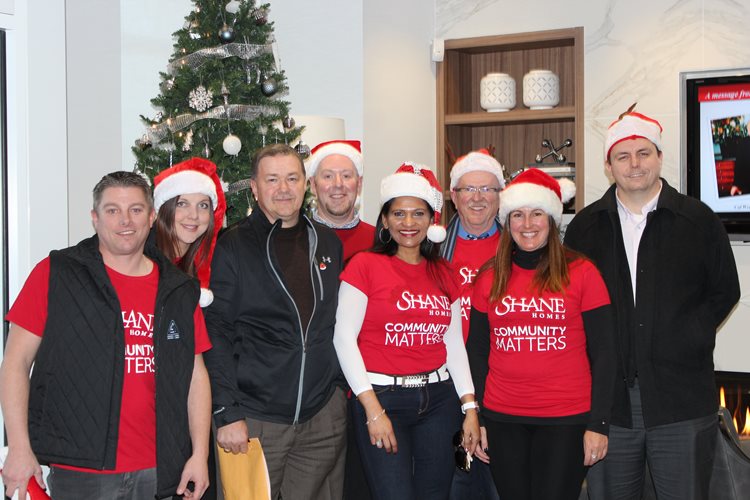 On Tuesday we had a team of 8 head out. We asked some of our participants to share their experience:
Natasha:
"It is now my 3rd year participating in this amazing tradition and every year as we're walking around the stores, reality hits you hard as you realize how many out there struggle to buy gifts or even food for themselves and their family.
December 13th, 2016 there was 8 of us all dressed up in Santa hats and Shane Homes Community Matters t-shirts ready to share the spirit of Christmas. We had 16 $200 dollar gift cards for Walmart and 15 $10 dollar Tim Hortons gift cards. With 8 of us walking into Walmart dressed up you definitely get some funny looks from customers as you go in and out of aisles, wondering who we are.
As we walked around Walmart we randomly picked people to help brighten their day by presenting them with a gift card. One interaction really hit home for me, it was a lady with her 3 week new born baby wrapped up in her arms. Richard Burke, one of my fellow staff, spotted this lovely lady and decided to give her a gift card so we all joined in and presented her with $200 dollars. At first she was in disbelief but as we got to talking with her she all of a sudden became silent and tears started rolling down her face. All she could say was "you guys have no idea how much this is going to help me" "thank you so much" "I can't believe it" and she covered her face with her hand and sobbed … we all looked at one another with tears in our own eyes because you realize the impact you just made on this lady's day.
Christmas spirit is about the love and goodness that you share. It is about finding time for others and giving to those around you. Hopefully our giving will make a small difference for those who might not be as fortunate this time of year."
Darren
"It was so rewarding to be given the opportunity, as an employee of Shane Homes, to go out and spread some holiday cheer. It is during the toughest times we all must remember to give what we can, however big or small, or simply share an act of kindness. Being able to see the smile or sometimes tears of joy due to these acts will renew the spirit immediately. Thank you again for allowing your staff to take part in this great initiative."
David:
"The overall experience of Shane Homes Spirit of Giving is incredible but humbling to those who have the opportunity to give back to our community. There was one particular young lady holding a baby who we gave a gift card to who was incredibly appreciate and grateful for this gift. I will forever cherish and carry with me this brief moment that brought many of us to tears. The power of giving back and helping those who need it face to face is completely overwhelming."
One of the recipients of gift cards shared their experience on Facebook: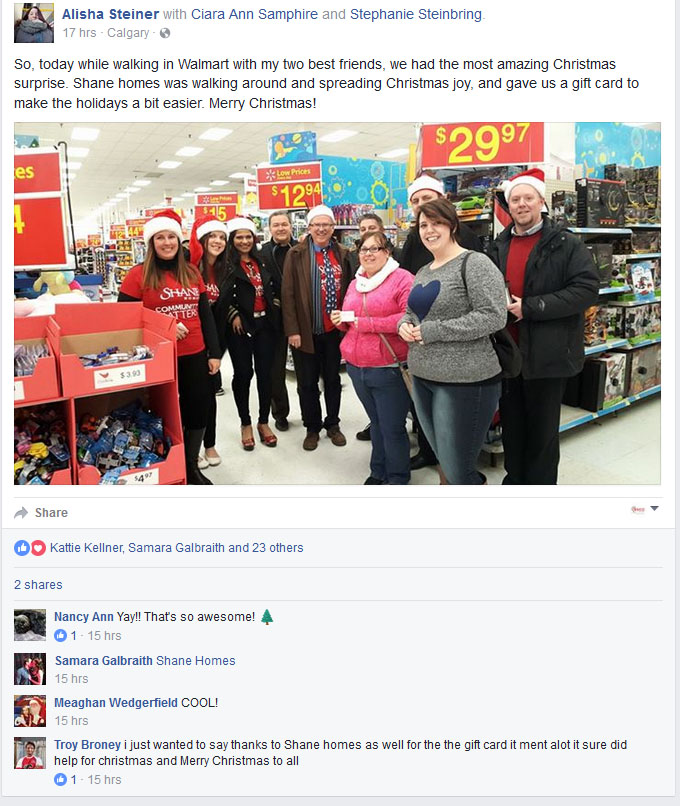 At Shane Homes we are very grateful that we are able to give back to the community and that we are able to help some of those who need a hand at this time of the year.