Shane Homes is celebrating 35 successful years of building homes in Calgary and area.
Shane Homes started as a two man operation in 1979 with Cal Wenzel and Barry Balsillie. In the past 35 years it has since grown into a multi-million dollar company which employees over 120 full time staff and countless trades and suppliers.
When Cal and Barry first started Shane Homes, their goals were simple, to be able to build enough homes to make a living plus be able to golf when they wanted.
Now Cal's goals are a bit different. First and foremost it is about the customer. "Our greatest satisfaction is seeing the joy in our customer's eyes when they move into their new Shane home and knowing they are happy with our work.
"We are grateful for the 10,000 plus families in over 100 communities in Calgary, Okotoks, Chestermere and Airdrie who have chosen Shane as their new home builder and for the trust they put in us to build their home, which will likely be one of the largest investments they make in their lifetime."
Another goal Cal now has that he never would have dreamed of achieving in 1979 when his first customer was his wife Edith, was to be able to give back to the communities he has helped build to the extent that he has.
"At Shane Homes we believe we have a responsibility to give back to the communities where we live, build, work and raise our own families. This is something I firmly believe in and is part of our company culture.
"Our first significant donation was $25,000 to the Ronald McDonald House in 1988, nine years after we launched Shane Homes. We donated a portion of the profits from 71 homes that all sold in four days."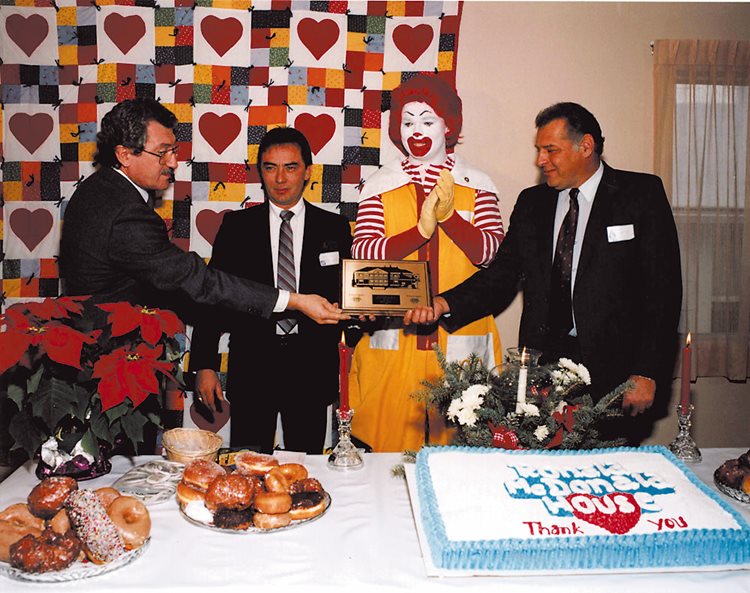 This promotion was part of a plan by Cal to offer affordable housing in Calgary, something that he is still a firm supporter of, over two decades later. The 800 to 1100 square foot homes were built in Martindale and Taradale in 1988 at a starting sale price of $59,900. The plan was to complete the construction of all the homes and then run a promotion for a couple of months until all of the homes were sold. The pre-promotion effort was so successful that all 71 homes sold in four days. This project became known as "the sale that never happened."
Over the past 35 years Cal Wenzel has contributed significantly to numerous causes and charities through Shane Homes and the Cal Wenzel Family Foundation including: community and recreation centres in Calgary, Airdrie and Okotoks; the Alberta Children's Hospital home lotto; numerous charity golf tournaments including Willowpark Charity Classic and Priddis Charity Golf Classic; Calgary Minor Soccer Association; True Patriot Love, Vimy Ridge Museum; and many others.
While Cal chooses a wide variety of organizations to support, he has placed a particular focus on supporting organizations that benefit children and families; be it through health research, support of the Arts, donating to educational institutions or providing educational grants to families who are less fortunate than his own. In addition to targeting ways to provide others with opportunities to experience or have access to some basic fundamentals of life, he also has a strong desire to assist them in moving ahead towards achieving a better life for their families. This could be through helping finance their continued education, providing a chance for them to live a healthier life, by assisting families during difficult times, or simply by providing them with the opportunity to play a sport or read a book. While his heart is generally with children and their families, he does take time to show his love for animals through support of various animal and wildlife Societies.
Additional achievements not on Cal's list in 1979 include digging into the developer side of things through the creation of Wenzel Developments in 2012. Cal formed this company in anticipation of a potential shortage of land that he thought would affect lot availability and housing affordability in Calgary. Wenzel Developments partners with other developers and builders to buy land and build communities, as well as developing communities under its own banner.
Shane Homes has also vastly increased its product line with the launch of Creations by Shane Homes in 2004 which offers single family laned homes, duplex style homes, and their first street town project which was launched in Nolan Hill in late 2014.
Shane Homes also launched a new company in 2014, Nuovo by Shane Homes, which will offer condo style homes in Sage Hill in the northwest, SkyView Ranch in the northeast, as well as additional areas.
Cal attributes his company's success to the people behind Shane Homes. "People are the most valuable asset of any company. We would not be able to build a single home without the tremendous effort of the staff at Shane Homes. Our success over the years is a testament to the loyalty, dedication to quality and skill of our team. We have staff members that have been with us for almost 30 years."
Shane Homes would also like to acknowledge and thank their valued trades and suppliers who have worked closely with Shane Homes over the years. Their desire to provide the best quality in the market place and maintain the highest of quality standards can be seen in each of our homes.
Shane Homes would also like to thank their developer partners for providing the best areas in the city for our customers to build their homes.
Cal says "There are many people who have helped us reach this remarkable milestone in our history and we would like to take this opportunity to thank them. We look forward to working together for many years to come."
Almost 400 of Shane Homes' partners, developers, trades, suppliers, and staff came together at Heritage Park recently to celebrate this milestone, reminisce about the good old days and look forward to many more years of shared success.
For more information please contact Shane Wenzel, President of Shane Homes at [email protected] or 403-536-2283.
About Shane Homes
Shane Homes (shanehomes.com) is a family owned company that has been building quality family homes in Calgary and surrounding area since 1979. Over the past 35 years Shane Homes has developed many unique programs and services that have been designed to provide their customers with exceptional customer service both before and after they move into their new home. Shane Homes builds single family homes with front double attached garages; Creations by Shane Homes division which launched in 2004 builds single family laned, duplex and town homes; and condominium developments through Nuovo by Shane Homes.
Back row (left to right): Dave Rickett, Robert Pavan, Natasha Rickett, Sebastian Wenzel, Shane Wenzel Middle row(left to right): Madison Saunders, Sharlene Rickett, Heather Saunders, Chantel Saunders, Christina Desfosses, Preston Desfosses, Francois Desfosses Front row (left to right): Edith Wenzel, Cal Wenzel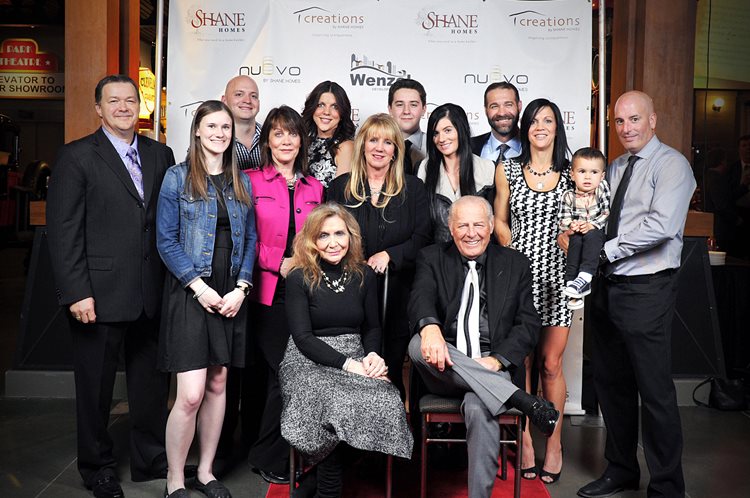 Back row (left to right): Dave Rickett, Robert Pavan, Natasha Rickett, Sebastian Wenzel, Shane Wenzel Middle row(left to right): Madison Saunders, Sharlene Rickett, Heather Saunders, Chantel Saunders, Christina Desfosses, Preston Desfosses, Francois Desfosses Front row (left to right): Edith Wenzel, Cal Wenzel