Shane Homes is renovating our Expressions Design Studio!
In 1998 Shane Homes started construction on a 17,000-sq.-ft. corporate head office off 64th Avenue and Deerfoot Trail in NE Calgary. At the time, Shane Homes was revolutionary in opening a "one-stop-shop" where new home purchasers could select many of the interior and exterior finishings that before they needed to select at suppliers across Calgary. Customers could choose things such as paint colours, flooring, railing, countertops, and more in one location, rather than driving all over the city, saving them time and money and adding convenience.
In 2005 Shane Homes undertook a significant renovation, adding 5,000-sq.-ft. wings to each end of the building. Our construction team and the architects did a top notch job. Driving by you would think that the complete building was built at one time; the extensions blend right into the original structure, as they should.
This also expanded the design centre creating a 5,000-sq.-ft studio with 4 functional kitchens each decorated in different themes (contemporary, traditional, modern), a complete ensuite and added on creature comforts such as a play area for the kids to keep them occupied while Mom and Dad were making selections, a coffee bar, and added even more products to select from including tile, carpet, siding, door headers, door hardware, kitchen cabinets, appliances and more.
Well, its' time to renovate again! And we plan to finish in around four weeks.
We will be providing weekly updates as construction progresses. Are you curious as to what you can expect once it is done? We will tell you that although we can't share all the details today, customers making selections will find the selection process is even easier and samples will be even more attractively displayed, providing a unique 'boutique' shopping experience, in a bright, refreshing environment.
If you have recently bought a new home, the Expressions Design Studio will be closed during the month of September, however we will still be doing exterior appointments. Cabinet and interior appointments will resume in October.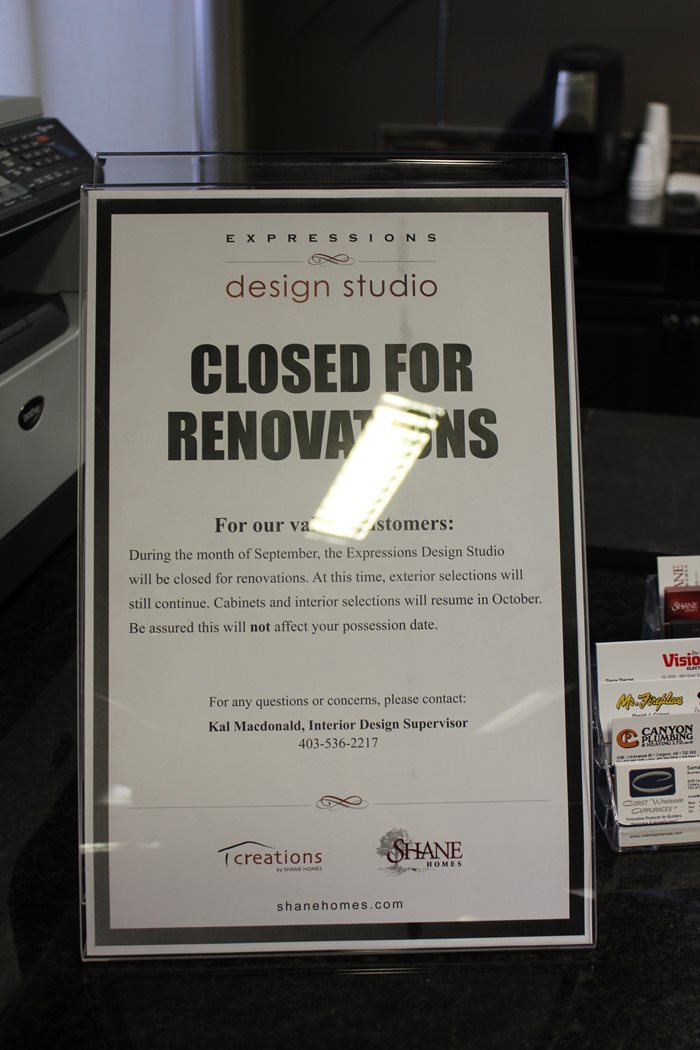 Here's some 'before' photos from September 4, 2013:
We will post updates as construction progresses. Join us on our journey.