Prelude in Radisson Heights Opens Their Doors May 16, 2017
Shane Homes is a strong supporter of causes that promote health, wellness and education, and that help change people's lives for the better. Over the years, we have re-invested millions of dollars back into the cities and towns in which we build, supporting the community and deserving causes. Our reputation for fairness, ethics and giving back has been one of our most valued assets. It is a pledge that we look forward to honouring in the years ahead.
At Shane Homes we also believe that everyone deserves a place to call home.
The challenge of providing affordable housing for lower income groups and not-for-profit agencies in Calgary is being met head-on by the RESOLVE campaign. It's a unique collaboration of nine partner agencies raising $120 million to build affordable and supported rental housing for 3,000 of the most vulnerable and homeless Calgarians. Shane Homes is proud to be one of 11 Calgary home builder members of RESOLVE, supporting the efforts of the Calgary Homeless Foundation and HomeSpace Society.
The RESOLVE campaign allows Shane Home and our industry to do what we can to provide a tangible difference and lend a hand to those who need it the most.
As part of our commitment, Shane Homes, in partnership with Nuovo by Shane Homes, Shane's multi-family division, has constructed Prelude in Radisson Heights, the fourth building to break ground through the RESOLVE Campaign.
Being part of RESOLVE was an easy decision for the Shane Homes Group of Companies, says president Shane Wenzel. "We derive an income from the community and we feel it's necessary to give back to it. We have a severe homeless problem here in the city of Calgary, so you have to address that. We are very happy to be one of 11 builders who are participating in the RESOLVE Campaign."
Many of our trades and suppliers have also helped on this initiative, adds Wenzel. "There are a number of them. Some are new trades for us who are stepping up to the plate and contributing their materials and services at cost or even below."
Construction on Prelude in Radisson Heights began in Spring 2016. This four storey building will provide permanent supportive living to 23 individuals facing chronic or episodic homelessness. Each resident will have a kitchen, bath, bedroom and living area, and more importantly a permanent and safe place to come home to at the end of the day.
Cal Wenzel, CEO of the Shane Homes Group of Companies says, "We are grateful to have been able to be part of the RESOLVE Campaign and participate in the worthy cause of building homes for Calgarians experiencing homelessness.
"Prelude is a partnership between Shane Homes, HomeSpace Society, The Alex Community Health Centre, RESOLVE and Calgary Homeless Foundation and this is a great representation of what can happen when we all come together to get things done. The result of this work is that another 23 people have a place to call home. We know that this project really is a 'prelude' to something great for Calgary."
Prelude in Radisson Heights doors will officially open on May 16th, 2017.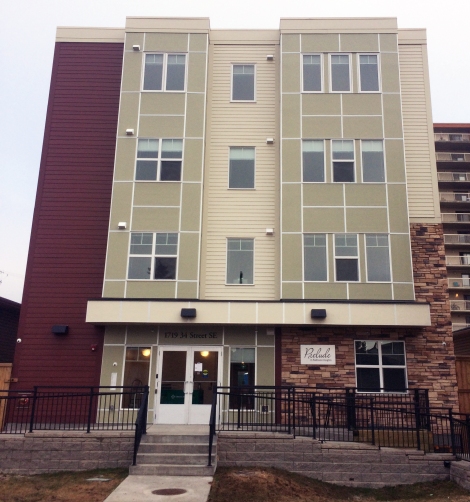 Visit resolvecampaign.com to learn more about this initiative.