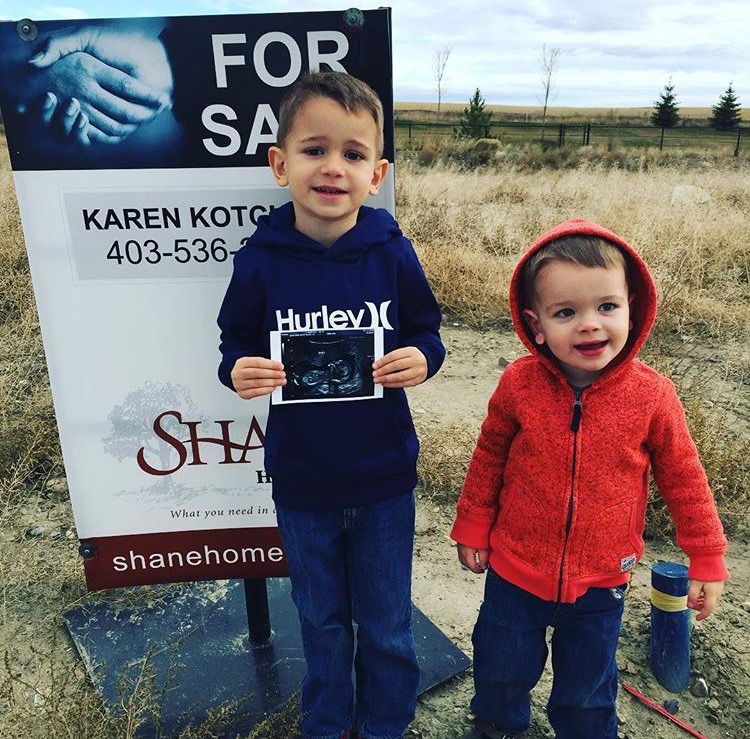 A warm welcome to the Shane Homes Family to some of our newest home owners, Marissa and Josh and their family of 4 and soon to be 5! They are currently building a home in King's Heights in Airdrie and will take possession in July 2017. We asked Marissa and Josh some questions about the building experience so far.
Shane Homes: Is this your first new home build?
Marissa & Josh: Yes, this is our first new home build.
Shane Homes: Which home model did you purchase?
Marissa & Josh: We purchased the Andorra II — 4 bedroom + bonus room up. we fell in LOVE with the floor plan as soon as we first looked at it!
We have 2 boys, a 4 year old and a 2 year old and a baby girl arriving in May. — All the reason we purchased the new home; everything needed to be on our want list and be perfect for us to move.

Our Area Manager, Karen, is amazing and hit all of our wants.The green space behind us, walking distance to the school that our kids will attend, walking distance to their grandparents home, quiet street, 4 bedroom, bonus room, and an amazing kitchen and dining room to entertain and host family gatherings in.
Shane Homes: Did you customize your floorplan?
Marissa & Josh: There wasn't much that we wanted or needed to change, it was pretty much exactly what we were looking for. Josh did make the garage as big as our lot would allow, which ended up making our bonus room, and one of the kids bedrooms bigger! We also made the deck bigger, with a little nook to tuck away the BBQ. I also made the kitchen island as big as I could, it always seems to be the gathering spot.
Shane Homes: How have your experiences been with our Shane Homes staff so far?
Marissa & Josh: All and all so far, we have had a pretty good experience with the Shane Homes staff, we are set to take possession some time in July.
Thank you to Marissa, Josh and their family for being in our blog. We hope to be able to share more photos as they go through the building process.