This blog is to follow up on a post from May 2015 titled:
Wisdom Wednesday – Our Interior Designer Brandy Provides Building Advice
In this blog, Brandy, and her husband Garret were in the process of building a Shane home. They have since moved in and have graciously provided some photos.
This is their second new home build; their first with Shane Homes. Brandy says that there are two things that made them choose Shane Homes. First, being a long term employee and knowing the owners, management team, trades and suppliers gave her confidence in Shane Homes quality and craftsmanship.
Secondly, she is a strong believer in the company's philosophy to give back to the communities that they build in and their generosity in helping those in need.
Thirdly, they chose Shane Homes because of the ability to customize floorplans. In Brandy's own words, "This is one thing that sets Shane Homes apart from other builders, they let their customers, not just their staff, customize floorplans.
We started by taking a smaller home, the Fiesta and added the square feet where we needed it. You can extend certain areas of the house by adding cantilevers or you can increase the whole house by adding 1′, 2′, or 3′ to the length or width. It worked out better for our budget to do this rather than starting with a larger house and re-working it."
Additional customizations included:
Kitchen:
Brandy: "We decided to build a larger kitchen because my husband and I both enjoy cooking and baking and we wanted to have enough space so we are not constantly running into each other when we are both working in the kitchen. We entertain quite a bit and the kitchen seems to be the hang out spot, so we wanted to have a big island and lots of room around it for people to mix and mingle. We also required more cabinets for storage, etc.
We flipped the floor joists on the main floor of the house to accommodate hardwood to run the length of the house. Our houses floor joists run width wise and we wanted the hardwood running the length of the house. You cannot run hardwood the same direction of your floor joists, it always runs opposite.
Ensuite
Brandy: A larger ensuite with two person shower and separate soaker tub. Two shower heads was a must! We also added extra drawers by the make-up desk for additional storage.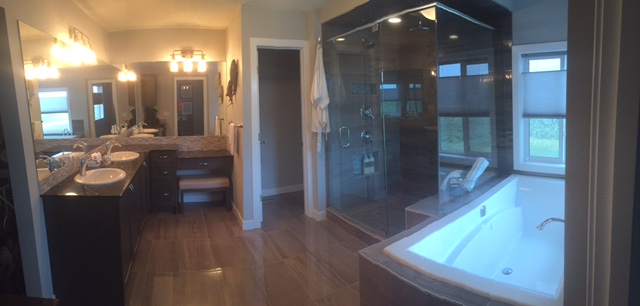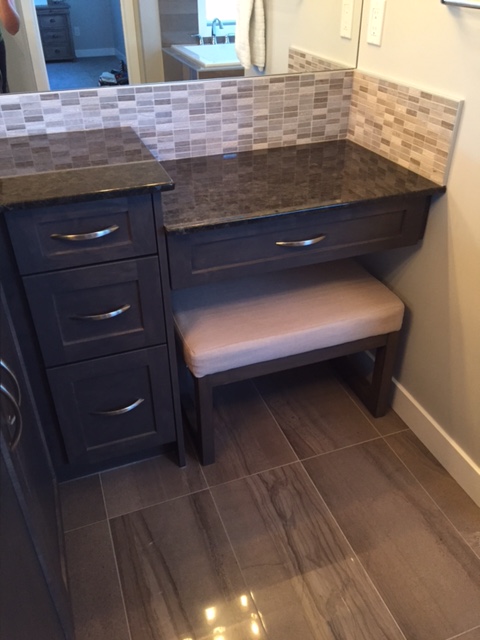 Shane Homes. The better way to build.
#betterwaytobuild