Building a new home is an exciting time! It is also a time when many decisions and choices need to be made in order to create the home of your dreams that you always envisioned.
In order to help our customers with their design choices, all Shane Homes and Creations by Shane Homes customers, receive complimentary assistance from one of our team of Interior Designers. Our Interior Designers meet with our clients in our Expressions Design Studio and help with exterior and interior design choices. This would include flooring, cabinets, paint colours, tile, trim, granite, and all the other items which make up a home.
Our Interior Designers are responsible for designing our showhomes throughout Calgary and Airdrie. They are involved from the design selection phase – including picking out exterior siding and trim colours, coming up with a theme or style, choosing floor coverings, door styles, trim, material to be used for countertops, and so on and culminating in the decorating phase – including shopping for and setting up furniture and artwork and picking out all the finishing touches which make our showhomes really stand out.
For customers that don't have a firm grasp of what they would like, our designers suggest our customers tour showhomes, look at design magazines and research ideas on the internet. Homzz.com is a great resource.
If you are building a new home and don't have a clear vision of how you would like your ensuite shower to look, here are some ideas. Please visit our Showhome Page to view the Design Selections used in our current showhomes.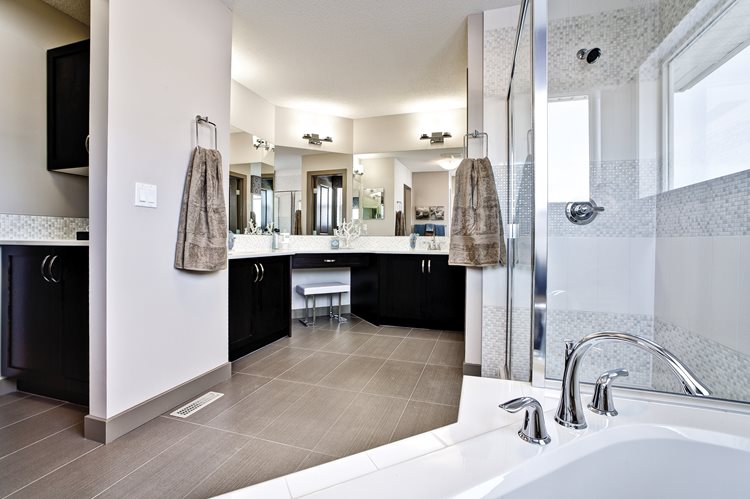 Tofino (Prior Showhome in Cranston): Horizontal bands of mosaic tile accents this shower and is carried through to the vanity backsplash.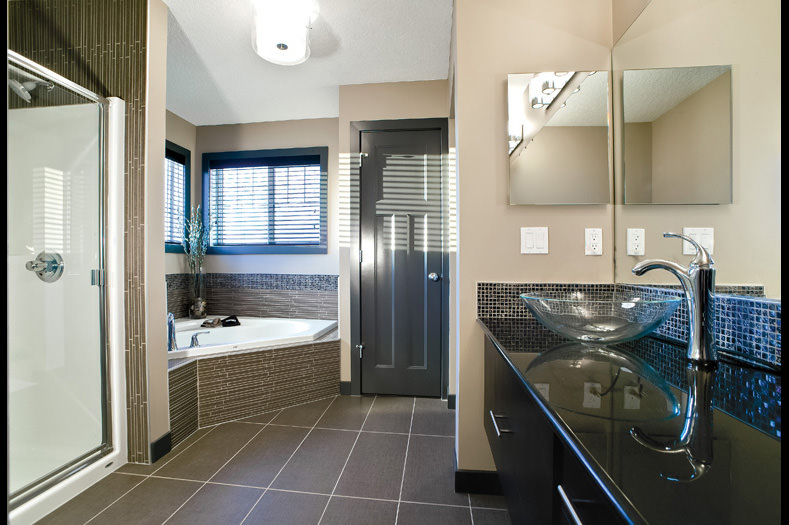 Tofino (Prior Showhome in Hillcrest): This shower surround is flanked by tiles installed vertically to the ceiling with contrasting white grout upping the wow factor.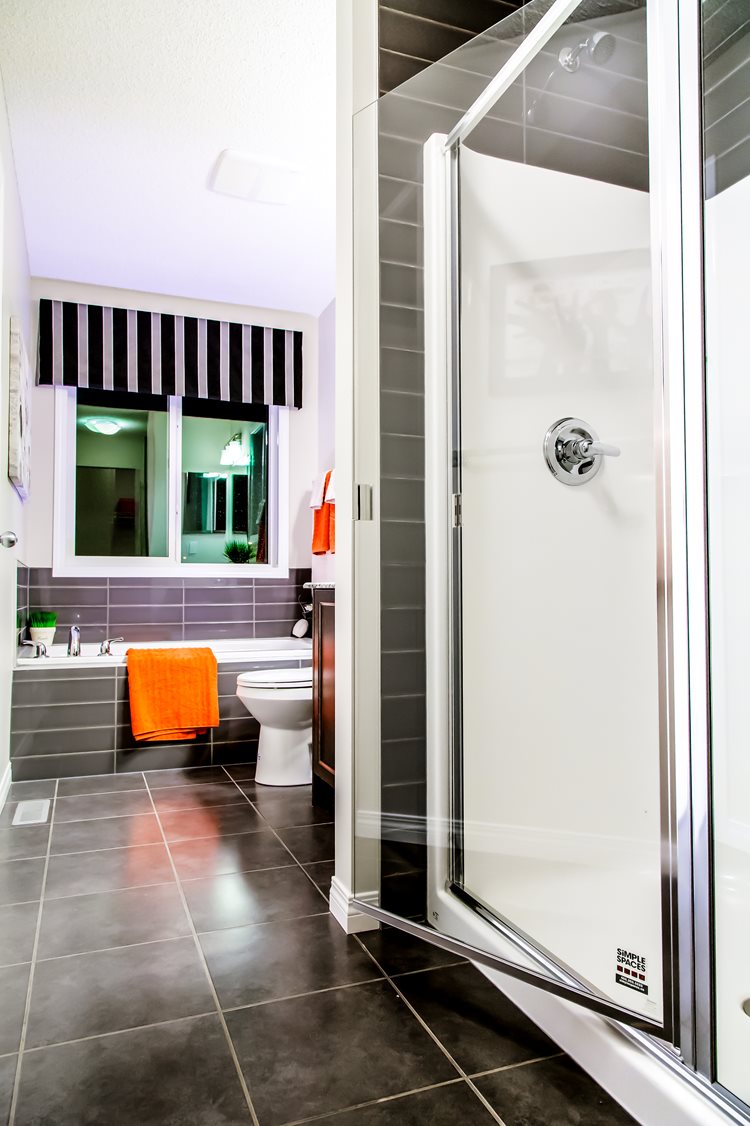 Galiano (Prior Showhome in Legacy): This shower surround is flanked by dark rectangular tiles with high contrast white grout installed horizontally which add pizzazz and draw your eye up.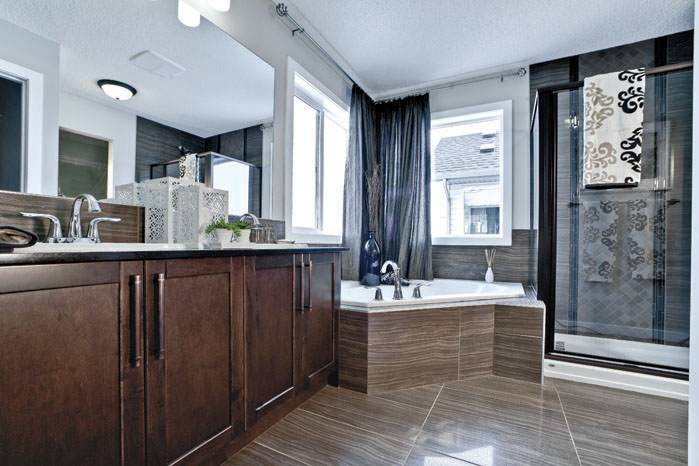 Andorra II (Prior Showhome in New Brighton): Two vertical bands of contrasting dark tile decorate the floor to ceiling tile shower.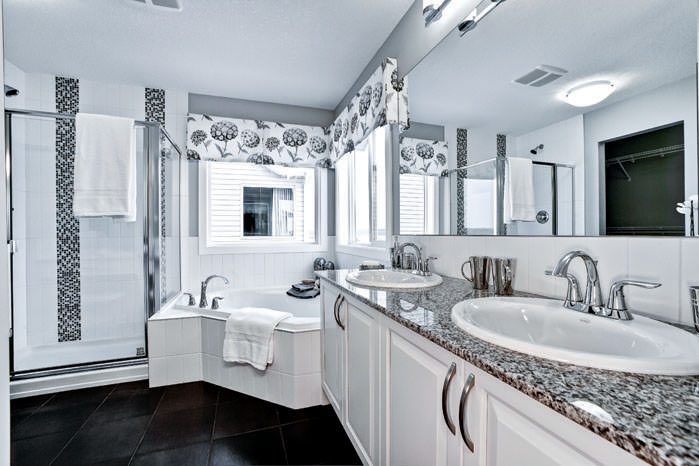 Fiesta II (Prior Showhome in New Brighton): Mosaic tile installed vertically in two bands accentuates the ceiling height and adds visual impact.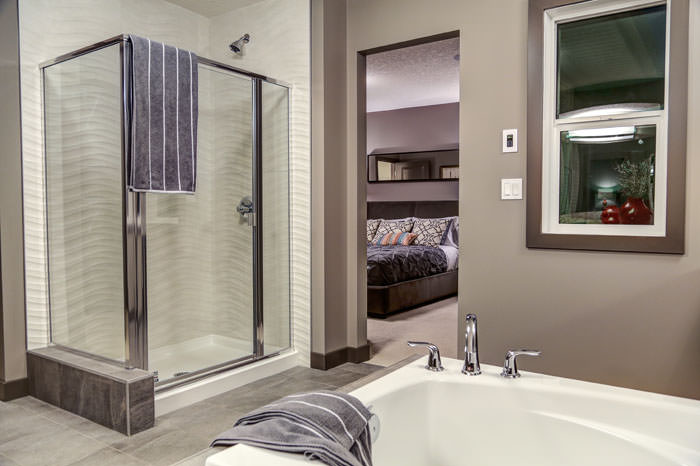 Orion (Prior Showhome in Nolan Hill): The floor to ceiling tile in this shower is so unique and high impact that no additional accents are needed.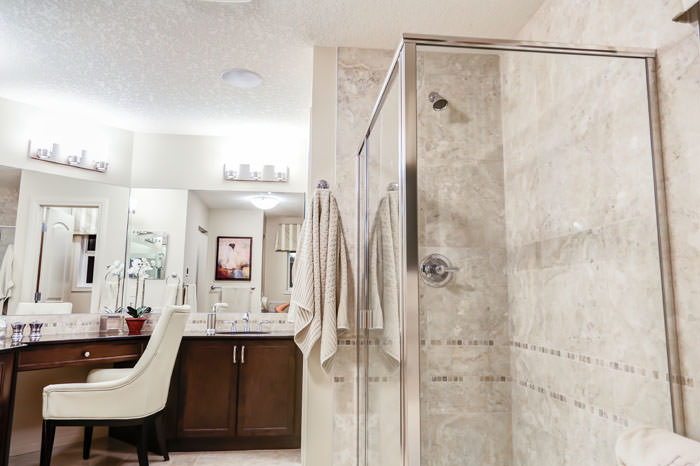 Tofino (Prior Showhome in Nolan Hill): This tile shower has 19″ x 19″ polished beige tile walls with delicate 1″ x 1″ tile accent bands.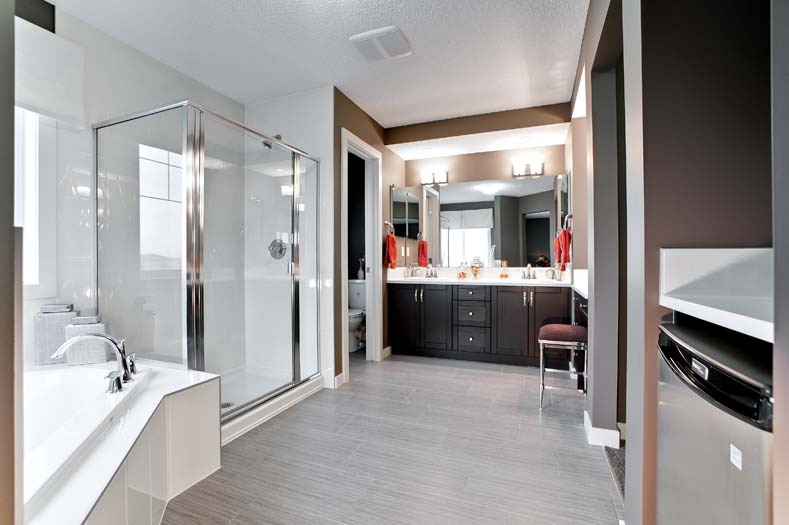 Leera (Prior Showhome in Sherwood): White floor to ceiling tile brightens this tile shower.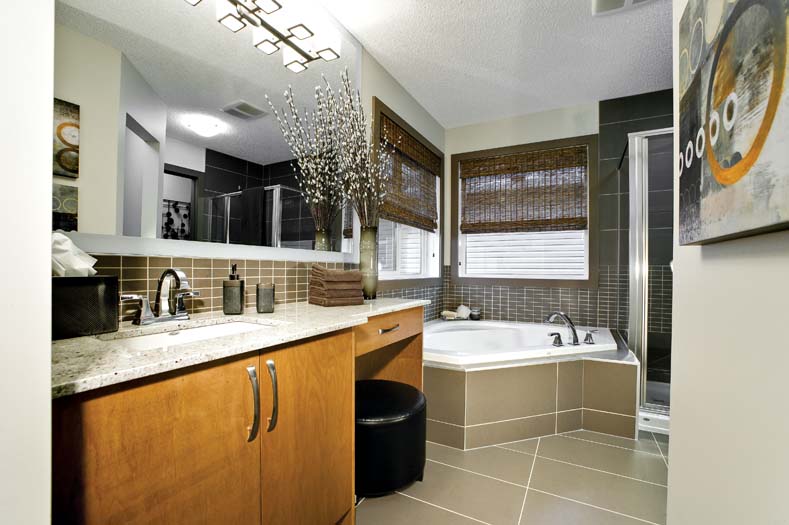 Fiesta II (Prior Showhome in SkyView Ranch): The 1″ x 2″ tub backsplash extends into the tile shower creating an accent band with 12″ x 24″ tiles above and below and contrasting white grout.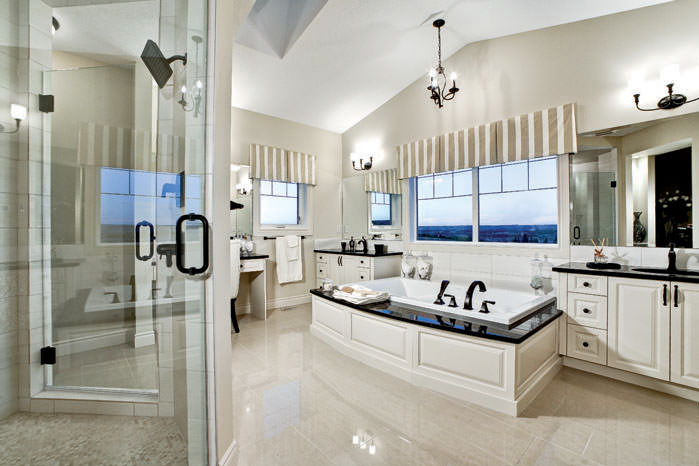 Cambrian IV (Prior Showhome in Valley Ridge Estates): This tile shower has a tile base and dual entries.