A Great Event 'Fore' a Great Cause: Shane Homes raises $26,750 for the Frank Lindsay Golf Foundation.

Shane Homes held our 22nd annual staff, trades, and supplier golf tournament on July 27, 2017 at Heritage Pointe Golf Club, and we are thrilled to announce it was another fun and successful event!

This fantastic annual tournament allows us to invite all of our valued staff, trades, suppliers, and partners out for a exciting day on the golf course to show our appreciation for everyone's hard work, commitment, and dedication over the past year. On top of that, this exciting day also raises funds for the Frank Lindsay Golf Foundation; a cause near and dear to Shane Homes.

Every year, this action-packed event features some great highlights and different themed holes. This year, there were three specialty holes to challenge and delight golfers: Desert #3, Pointe #9, and Heritage #9.

Desert #3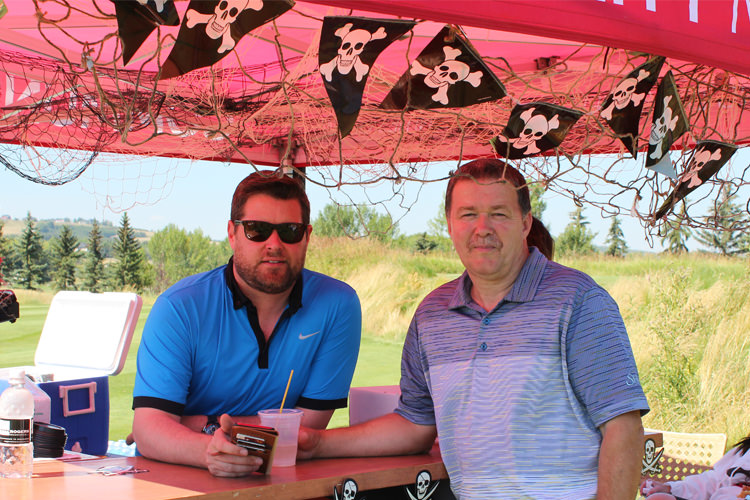 After a smooth start to their day on the course, unsuspecting golfers rounded the corner at Heritage Pointe Golf Club to discover a pirate ship marooned in the middle of the desert… Desert #3 that is!

"Watch out for pirates" was the warning sign golfers passed as they fearlessly made their way to their fate at the hook of 'Captain Dave' and his ragtag band of pirates who were serving refreshing libations and accepting donations for the Frank Lindsay Golf Foundation.

Whether it was a 'Captain Dave's Green Lagoon Shot', a 'Captain's Seabreeze' or the traditional 'Captain and Cola'; refreshments were flowing, and a fantastic time was had by all at Desert #3!

Pointe #9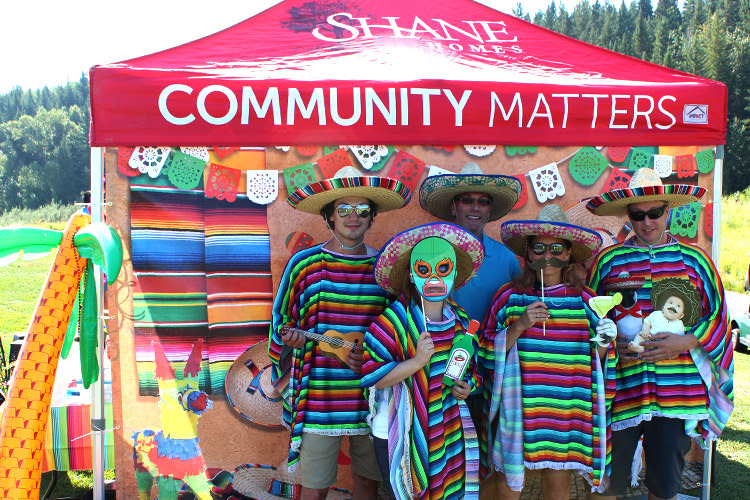 Meanwhile at Pointe #9, our VP of Finance, Rhonda Halyn, treated golfers to a fun mini Mexican Fiesta complete with sombreros, serapes, and lively fiesta music right there on the course!

A fun, brightly coloured, and unique Mexican-themed photo booth gave golfers the perfect backdrop for a once-in-a-lifetime goofy team photo; Moustaches and Maracas all around!

Each team of golfers was then given the opportunity to try their luck at a game of Bean Bag Toss for a chance to earn a birdie or a hole-in-one on the hole! While no team was able to toss their way to an ace, many teams snuck away from Pointe #9 with a birdie, a goofy team photo and a delicious snack to enjoy over the coming holes!

Heritage #9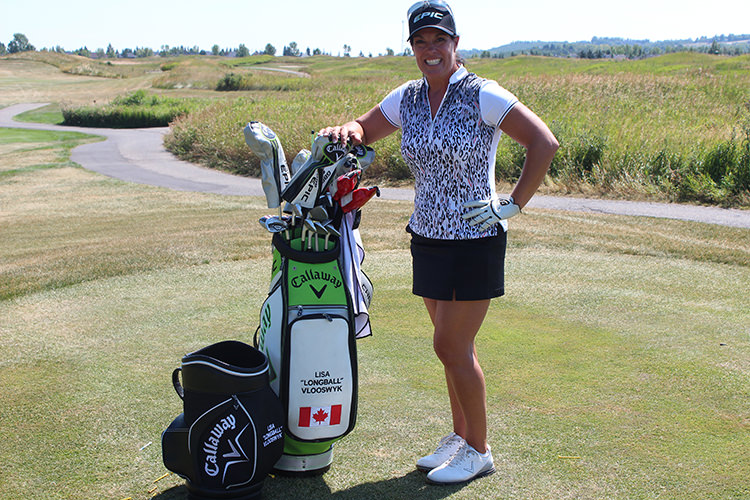 Golfers got a special treat at Heritage #9 where 7-time Canadian Long Drive Champion Lisa 'Longball' Vlooswyk was waiting for golfers on the tee box! To raise money for the Frank Lindsay Foundation, Lisa hit drives all day for Shane Homes guests off the tee at Heritage #9.

A special thanks to Lisa Longball for her continued support of our tournament and the Frank Lindsay Golf Foundation!

Every year, Shane Homes holds this fun tournament not only to show our appreciation to our staff, trades, and suppliers; but also to raise funds for the Frank Lindsay Golf Foundation. This year, we are excited to announce that we were able to raise $13,375 during the golf tournament. Shane Homes was honoured to match the funds raised to bring the total amount of donated funds to $26,750 for this amazing cause!

Frank Lindsay was an avid golfer who always lived life to the fullest. In 1984, he founded one of Shane Homes' trusted suppliers, Carpets for Less; now known as All Floors. This strong partnership still exists today.

Shane Homes' founder, Cal Wenzel, was a very close friend of Frank Lindsay's, and wanted to honour Frank's memory by supporting the Frank Lindsay Golf Foundation. This incredible foundation has raised hundreds of thousands of dollars to help put kids through golf schools and programs. Through the Frank Lindsay Golf Foundation, kids are able to enjoy Frank Lindsay's favorite pastime for years to come.

Thank you to all of our staff, partners, trades, suppliers, and volunteers who helped make this year an amazing event for a great cause!